Staff at Bury-based Pennine Telecom raced to beat cancer last weekend when they took part in a massive charity run at Heaton Park.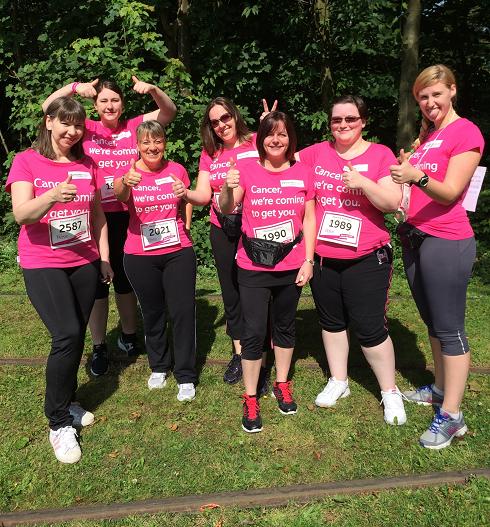 A seven strong team ran as the Pennine Panthers in the Race For Life and swiftly smashed their initial fundraising target of £350. They've already banked £1,132 in aid of Cancer Research UK and are still accepting donations on their JustGiving page.
Team members gave different reasons for running. Accounts assistant Hayley Sherratt said she took part "to get fit, raise money and awareness for cancer research and in memory of my Grandma Jean and Aunty Pat and for Uncle Alan who is kicking cancer's butt!" Digital marketing executive Fianna Hornby ran for similar reasons saying "I decided it was finally time to get fit. I also unfortunately lost my Grandma and Grandad to cancer too, so the charity is close to my heart."
Service control administrator Joanne Aldred dedicated her run to " four very close family members who lost their battle with cancer at young ages" whilst sales support co-ordinator Kirsty Cookson said "I raced for my Grandma and Godmother who have now got a clean bill of health after being diagnosed with cancer."
Also completing the five kilometre course were administrator Ruth Hayes, sales support co-ordinator, Helen Jones and marketing manager Belinda McGee. Said Ruth: "I'd like to dedicate my run to my precious Dad. He didn't pass away from cancer but was taking part in a trial for prostate cancer when he died. I thought that if he could do something for a cancer charity then so could I."
Commenting after she and her fellow Panthers had completed the run, Mrs McGee said: "We had a great laugh training, sharing each other's woes and, whilst we got a bit out of puff, had fantastic fun on the run. The effort was definitely worth it as we're all just that little bit fitter and have raised a good sum for what is a very worthwhile cause. I lost my Father and Grandma to cancer and my Aunty has just received a diagnosis, so Cancer Research is a charity very close to my heart.
* To donate to Cancer Research UK via the Pennine Panthers visit www.justgiving.com/Pennine-Panthers-Race-For-Life