December 3rd saw Virtual1 receive the best possible Christmas present, in the form a 3* accreditation from Best Companies – the organisation behind The Sunday Times – Best Companies to work for.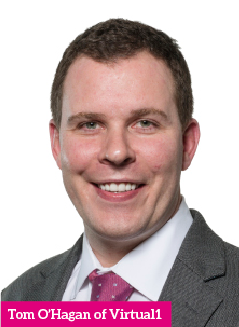 According to Best Companies "a 3 Star accreditation is our highest standard of workplace engagement, representing organisations that truly excel, the 3 Star accreditation reflects 'extraordinary' levels of workplace engagement". In 2018, only 120 companies, across all verticals and sectors achieved this grade in the UK.
This has been a highly significant achievement for an organisation that puts people at the top of its strategy. A long-stated goal by CEO Tom O'Hagan. "I'm absolutely delighted that we have achieved 3 stars, it's a been a 5-year journey, but an extremely important and worthwhile one. I firmly believe in investing in people. Happy people deliver a fantastic service, and that is what drives sustainable Top and Bottom line growth."
The benefits to Virtual1's Partners are already being felt - "The benefits of this people first strategy are coming shining through in our Net Promoter Score (NPS) initiative, with positive customer feedback growing month on month." O'Hagan continued.
Kate Brunning – Head of People at Virtual1, and with whom Tom tasked with delivering the accreditation comments: "This is not an award to be underestimated – particularly in a fast growth environment. It took 5 years to master the art of engagement but now I can safely say it was worth every minute it took to get us here. Next up, is getting listed in the Sunday Times Top 100 – that's the ultimate dream!"
We recently spoke to O'Hagan about his business ethos on Tech from the Top. See what he had to say below.