Dozens of resellers flocked to Nimans and Samsung Wireless LAN fact-finding events and discovered how the WLAN market is set to expand by 20% this year.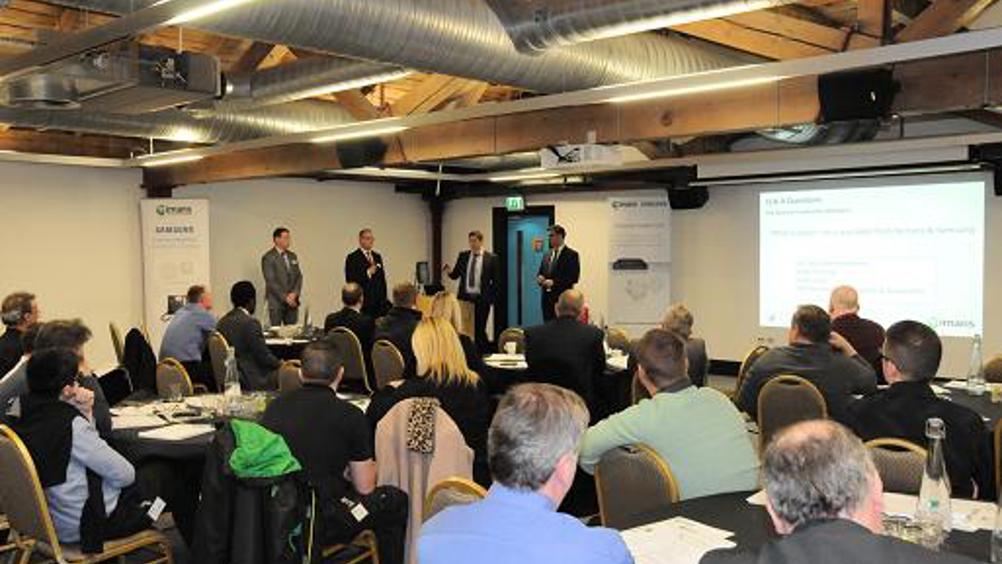 Despite a snow storm attendees travelled from across northern England to Manchester's Museum of Science and Industry and learned how the £250m UK sector is experiencing growth rates much greater than the PBX arena. A second event was staged at Samsung's head office in Chertsey, a few days later, attracting a capacity turn out.
Presentations from senior Samsung and Nimans staff were combined with 'stay and play' sessions that included demonstrations of how the technology integrates with all major telephone system brands, such as Unify, Panasonic, Samsung, NEC and iQ PBX – as well as door entry and access control platforms from 2N. Resellers discovered how to identify, quote and maximise market opportunities – whilst mobile apps from Unify and Samsung highlighted how voice and presence can be seamlessly delivered via WLAN from a telephone system to a mobile device.
"The sheer volume of enquiries and opportunities since we launched this product has gone through the roof," explained Nimans' Head of Dealer Sales, Tom Maxwell. "The events reflected how WLAN is one of the most innovative and exciting parts of our business in years. Many resellers are already joining us on the journey."
Visitors heard how Samsung's cutting edge solution has been developed from the ground up based on making the complex simple. Hailed as a 'natural evolution of voice communication' it addresses the needs of a new mobile generation with exceptional performance, ease of install ation and network management. Samsung WLAN features just two main components; Access Points and their Controllers. Highly effective Air Equaliser functionality, that allocates equal air time to multiple devices, is one of many impressive features.
The events won universal acclaim from attendees who were able to take advantage of a comprehensive on-boarding offer to ensure they make a flying start when adding Samsung WLAN to their product portfolio. A Stockport-based dealer commented afterwards: "We've got very limited knowledge of Wireless LAN but we have lots of potential clients I think we can sell it into. It's learning about the technicalities and I've been very impressed by today's event. I thought I'd get a bit lost in the technical side but I actually found it very easy to understand and straightforward. We can take this new-found knowledge and confidence out into our customer base and build a powerful new addition to our portfolio with the support of Nimans and Samsung. "
His positive outlook was shared by a Wigan counterpart who revealed: "We're not currently selling WLAN but today has been a great stepping stone. It looks like a fantastic product which will be a market leader and help us dip our toe into a new sector - and increase our sales with existing and new clients. Our core market is telephone systems and with the IP market growing like it is this is a natural fit into our business especially the voice connectivity. That's going to be the big thing for us to bring voice over the wireless LAN which we've not been able to do previously."
As the only voice and data distributor in the market with this product set, Nimans holds an unrivalled advantage and boasts comprehensive reseller support from start to finish, with a dedicated WLAN team. The company has also produced a Wireless LAN Straightforward Guide as Maxwell emphasised: "We keep it as simple as possible to sell, it's as easy as a 1-2-3 process."