Here's what happened at the Comms Business Awards ceremony in London.

The Channel is the backbone of UK businesses, making technology accessible to organisations across the nations, and the Comms Business Awards were established to celebrate the great work done by resellers, MSPs, distributors and their partners every day.
The Comms Business Awards 2023 was a night of celebration, with companies and individuals awarded for their innovative and tenacious work.
Mat Swift, publisher, Comms Business, kicked off proceedings. He said, "This last year the UK and the world have had to face adversity, war, climate and environmental disasters, rising energy and food prices, unsettled political infrastructure, strikes, high interest rates and a cost-of-living crisis. Our market is adapting to these challenges.
"Tonight's awards showcase numerous examples where, despite tough conditions, companies in the Channel have adapted and faced challenges head on, to buck the trend and continue to be successful."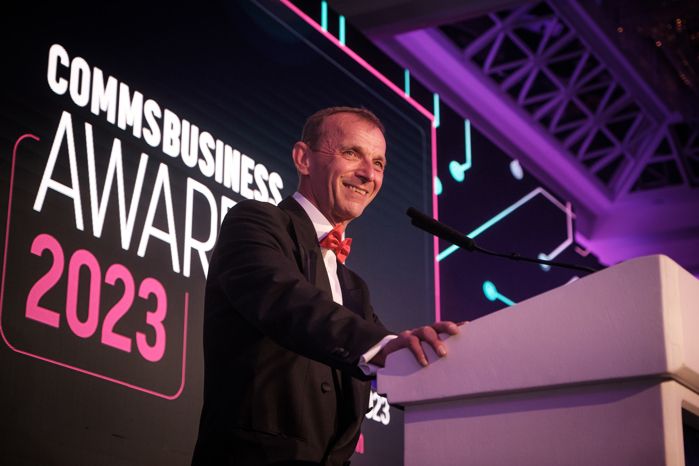 Success and achievements
After a three-course dinner, our host Ardal O'Hanlon treated attendees to a performance and then walked us through the nominees and winning entries. The first award of the evening was Best ICT Solution award, which was won by Elite Group. The second award was the White Label Solution award, which was scooped by NTA.
Cliff Chandler, head of sales, NTA, said, "We are thrilled and deeply honoured to accept the White Label Solution Award. We pride ourselves in our white labelling services and make sure we always deliver the very best in branding solutions. We extend our gratitude to Comms Business for this recognition and to our incredible teams whose hard work and expertise have made this achievement possible."
Next, the SMB Reseller of the Year award was taken home by Chrome Telecom. The Mid-Market Reseller of the Year award followed, which was won by KubeNet. Enterprise Reseller of the Year was won by Focus Group.
MSP of the Year was another tightly contested category, with Dunedin IT emerging as the winner. Rory McEwan, director, Dunedin IT, said, "We are delighted to have been awarded Managed Service Provider of the Year, an accolade we will use as inspiration to drive the business forward.
"It's been a very challenging landscape over the last three years, and it has been crucial for us to demonstrate the value of dealing with an MSP to our customers. We provide digital strategy, whilst also supporting our customers and keeping their data and devices safe. The team is dedicated to delivering that end to end service that defines an MSP."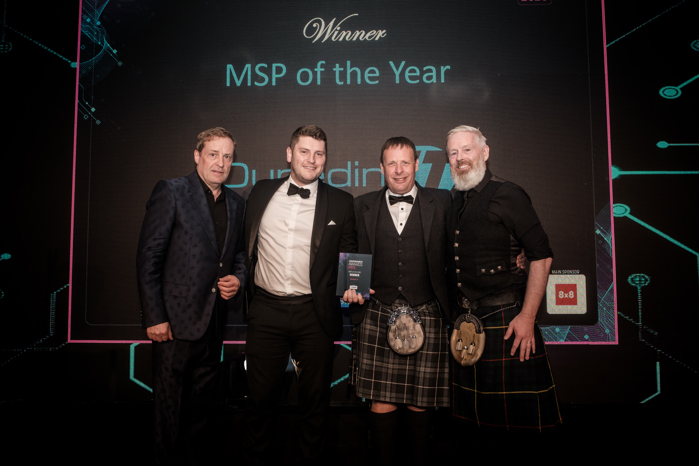 We then moved onto our Specialist Awards, with Contact Centre Vendor going to RingCentral. The award for UC Vendor was up next and Voiceflex won the award. Our third Specialist Award was Billing Platform Vendor, which went to PRD Technologies, and Aryaka Networks took home our Cybersecurity Vendor award. The final award in this section, Hardware Vendor, went to Jabra.
Next, we saw Giacom named Distributor of the Year. Terry O'Brien, CEO, Giacom, said, "It's a great honour to be recognised as Distributor of the Year by Comms Business. Our people work tirelessly to support our partners, so having their efforts recognised in such spectacular fashion is extremely rewarding."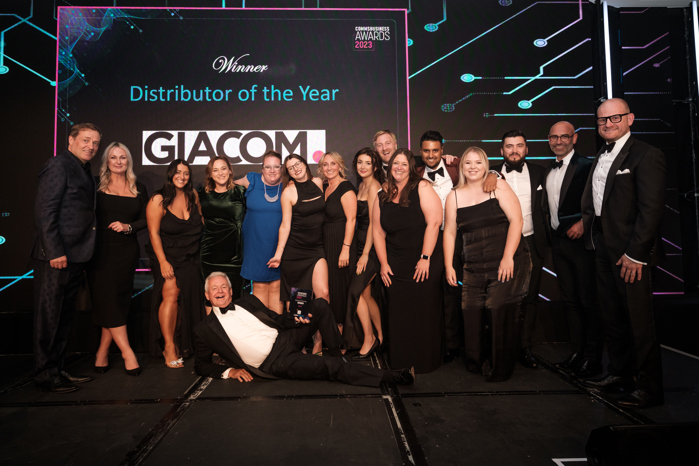 Our Connectivity Awards were up next. CityFibre scooped Best Fibre Connectivity Provider, and Best Connectivity Solution went to Spitfire Network Services. Jola took home Best Wireless Connectivity Provider.
Adrian Sunderland, CEO, Jola, commented, "We were delighted to win this award. We continue to grow and to invest in people, products, platforms and processes. We have a talented team here at Jola who are dedicated to supporting our growing partner base.
"It is great to see so many Jola partners building profitable revenue streams from our unique mobile data solutions. We would like to thank all our staff, partners and suppliers for all their support."
People and companies
Finally, awards were given to recognise the efforts of companies and individuals. Our Workplace Award was given to NFON, and Diversity in the Workplace award was taken home by 2Connect Digital Solutions.
Ali Mohsin, growth and strategy director, 2Connect Digital Solutions, said, "To be shortlisted as a finalist and then be crowned as the winner of one of the most notable and highly competitive categories at this year's Comms Business Awards, is a matter of great pride and honour for all of us at 2Connect.
"This is incredibly encouraging for an organisation of our size to be recognised as a leader in diversity within the ICT Channel, at one of the most credible and prestigious industry awards. Our entire leadership team is committed to achieving, not only diversity of technology solutions but also the diversity of its workforce in every single department. Equally, we thank the Comms Business team for raising the awareness for diversity at workplace in our industry, at a time when it is needed the most."
Our penultimate award was for Hidden Hero, with Emma Harvey, from Giacom, taking home this award. She was recognised for her commitment to solving problems and consistently balancing customer needs with team capacity. The judges said the submission demonstrated she works hard to put people first whilst engaging teams and keeping morale high. A true hidden hero!
Our final award of the evening was for Services to the Channel, with Simon Adams, managing director, PRD Technologies, taking home this prestigious award.
Adams was nominated for having spent over two decades resolving a number of challenges faced by service providers in the Channel. He has built an organisation that supports companies to rapidly and effectively adapt in the complex and volatile Channel market, giving them a competitive edge to thrive and grow. A huge congratulations!
Caroline Enger, head of marketing, PRD Technologies, said, "The team at PRD Technologies were delighted to walk away with two wins at the Comms Business Awards 2023! Winning the Billing Platform Vendor award is a huge accolade to the team and our customers, who we work so closely with to build strong and trusted relationships.
"Simon Adams, our managing director, was awarded the Services to the Channel award. He has dedicated a lifetime career to the industry, building a pioneering organisation and product that supports channel partners to rapidly adapt in the ever-changing markets. We would like to thank all the team at Comms Business and the judges for a great event, we are looking forward to next year already!"
Auction success
The Comms Business team also hosted a silent auction during the awards ceremony, and raised a huge £8949 due to the generosity of everyone in the room. Thank you to all that took part. The funds will go directly to NSPCC Childline.
Bex Knight, special events manager, NSPCC, said, "Just to put that into context for our services, the amount raised will cover just over six hours of the Childline service or approximately 2,237 calls to Childline, which is incredible!"
Expertise and support
Thank you to all of our judges, sponsors and supporting organisations – Itret Latif, Dr Lucy Green, Adam Zoldan, David Terrar, Graham Bunting, David Sparrow, 8x8, Atmoso, Comms365, EXPO.e, Fit To Switch, Freedom Fibre, GetCrisp, Giacom, Intermedia Technologies, ITS Technology Group, Mainline, NTA, Nuvias UC, Sky Business, Southern Communications Group, Three, Venture Corporate Finance, Voiceflex, TalkTalk Wholesale Services, BT Wholesale, and Knight Corporate Finance – and everyone that took the time to enter an award.