All Hail The iPone 3G

It's here, it's hot and it's sexy. We want one. Keep reading for fast facts and our opinions on this little beauty…
Look at it, isn't it gorgeous? This one is going to be such an easy sell for dealers. And to top it all, it has brains as well as beauty; this baby contains 8 to 16 gigs of memory, plenty of space for everything from family photos and new tunes, to work applications galore.
iPhone Apps store is bursting with goodies. There are more than 800 native applications available at the App Store already. A satisfying 200 of those are free and of the rest, 90% will cost users less than $10 – peanuts! The choice at the Store is amazing (check out our Application Review pages to find out more) so shoppers will be extremely happy. The only downside we can see here is it is going to be very easy to keep clicking 'buy' – we are going to spend a lot of money here! To prove a point, 10 million apps were downloaded in the iPhone Store's first four days. Although Apple won't tell anyone how many of those downloads were paid for, we can guarantee that the Store is set to be a money spinner...
Pulling iPhone into the business market is Microsoft Exchange ActiveSync, which gives users push email, contacts and calendars. Users can view Word
and Excel docs as email attachments, giving them the full mobile office experience. On top of all that, there's secure VPN links into the enterprise network thanks to Cisco, for full connectivity. Watch your backs, RIM and Nokia, there's a new kid on the block.
Apple has really nailed the user experience on the head. This handset provides one of the best browsing and usability experiences on the market. Once tried, going back to a Blackberry or Nokia is going to be a disappointment, no doubt about it.
It's got a camera, but it's a bit pants, only two megapixels. Could do better.
No buttons – how state of the art! But hang on, no buttons to type with means speed texting or knocking out a lengthy email is going to be a bit hit and miss with nothing tactile to feel. Perhaps a retro Qwerty product is in the sidelines for business users of the future?
Look at that lovely screen – so big and smooth. And maybe a tad fragile. Best not drop it too many times.
The first phone really aimed at the new generation of mobile media users contains one glaring mistake– no support for Flash Media. When the buyers of this device are the types who will be ready and willing to try out the likes of video on demand, and now have the screen and bandwidth to do it, no Flash means no BBC iPlayer, no BBC live streaming, and a lot more no's. We await an update…
Ed says:
This is a stunning handset, ready for the taking by the under 35, cash rich, multi media ready generation. Loaded with 3G capacity and access to hundreds of brand new applications, it is going to be an easy sell for many months to come. It's got a few flaws, such as being a touch delicate, not supporting Flash and being awkward to type on – something that business users, Apple's new target market, will definitely need to be able to do easily – but at the end of the day if you want something you can whip out of your trousers to impress, this is going to be it.
AND THE COMPETITION…

Coming out in August are the Blackberry Bold and Samsung Omnia, all set to give iPhone a run for its money.
Blackberry Bold
The Blackberry Bold will be coming to a store near you soon. While the iPhone is Apple's step up into the echelons of the enterprise, the Bold is RIM's step down into the consumer market. It still looks like a Blackberry, and has all the functionality that these rugged business devices have always had, but it contains features that in the past have not been Blackberry strong points.
This is RIM's first 3G handset launch, supporting tri band HSDPA and enterprise grade Wi-Fi (802.11a/b/g) networks. It contains a fat 624 MHz mobile processor to make downloading email attachments, streaming video or rendering web pages an easy job. As with all Blackberry's it supports Microsoft Exchange ActiveSync, plus Lotus Domino and Novell's GroupWise.
For the consumer end of the market, there are Blackberry's thousands of apps to choose from. It has a 2 megapixel camera and is loaded with Roxio Photosuite 9 LE for picture enhancement and to create albums, plus the Music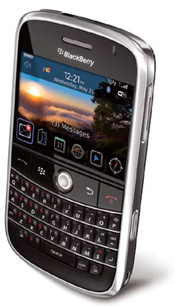 Media Manager for Blackberry from Roxio, and the Blackberry Media Sync application to sync iTunes digy music collections with the smartphone. Oh, and it contains GPS too.
While the Bold looks like it should be hopping into the pockets of tech-savvy, fast living consumers who want to use Facebook as well as keep up to date with their work emails, the price will prevent mass market deployment. Although nothing is confirmed, it is expected to hit the street at a price that will only attract senior execs.
Samsung Omnia
Samsung's SGH-i900, otherwise known as the Omnia, is rumoured to be hitting these shores this month. It's a Windows Mobile 6.1 smartphone with all the trimmings, pulling together high performance business content with high end multi media to suit both the business user and the consumer.
Like the iPhone, the Omnia is a button-free zone. The touch screen is complemented with an optical mouse to make it easier to zip between applications. This device, which is of course another HSDPA 3G smartphone, comes with either an 8 gigabit or 16 gigabit memory configuration, with extra storage available through its extendable slot.
The Omnia comes with GPS, navigation and geo-tagging, so you will never be able to use the 'I got lost' excuse again. It also has an outstanding 5 megapixel CMOS camera with autofocus, face and smile detection and auto-panorama shot – wow! So you can take it away on holiday with you, click your snaps of Disneyland, and immediately load them to Facebook and email them home to your mum. Sweet!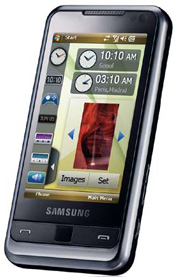 Openmoko Neo FreeRunner
This sexy looking handset from Openmoko is open source all the way. This Linux-based device is about freeing users and application developers from the constraints of proprietary software, and releasing mobility into the flexible, free world of open source software. We are getting chills just thinking about it….
The Openmoko Neo FreeRunner utilizes GNU/Linux and comes with core software for dialing, SMS and recording contacts. Openmoko will supplement these features with periodic downloads beginning with a software suite that takes full advantage of the phone's hardware platform.The new software, debuting at Linux World in August, will provide exciting new location based applications and more.
But where's the camera? Oh, there isn't one. Small price to pay though; the FreeRunner features a 2.8 inch, 480 x 640 VGA touchscreen, Wi-Fi (802.1 1b/g), AGPS, GPRS 2.5G, Bluetooth 2.0, two 3-axis motion sensors and comes with 128MB WSDRAM and 256MB NAND Flash. And, did we tell you? It's open source.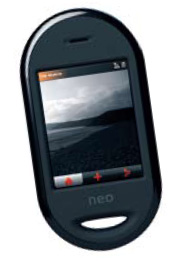 Motorola MC75
Pretty she is not, but this walkie-talkie-lookalike is not going to be a five minute fad with business employees. This device is built to last, designed to be dropped, and can do a multitude of jobs on top of just providing users with phone functionality.
No matter what workers need to get the job done, Motorola's MC75 Worldwide Enterprise Digital Assistant delivers all the features and functionality required to maximize workforce productivity in a rugged device.
It is 3G with push to talk, has integrated GPS with superior sensitivity and tracking capabilities, 1D and 2D bar code scanning, a high resolution colour camera, 3G wireless WAN, wireless LAN, wireless PAN plus IrDA connectivity. That's quite a lot of stuff.
The product allows enterprises to standardise on one device for global deployments, reducing the complexity, support requirements and the cost of mobility solutions. By providing a single platform for worldwide voice and data services, the MC75 eliminates the need for multiple operating systems, multiple service providers and multiple devices. This is one tough little workhorse.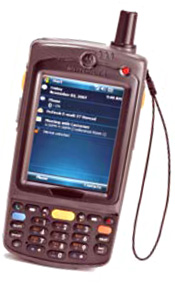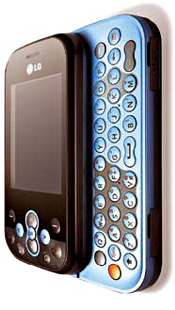 LG KS360
Aimed at younger users, the LG KS360 is all about enabling kids to make full use of social networking websites and instant messaging.
The KS360's sliding Qwerty keypad and high spec messaging features make sending SMS, IM, and email simple. The idea here is to allow users to write messages quickly and accurately. To make messaging easier, once the full length keypad has been opened, the 2.4 inch screen automatically rotates 90 degrees using accelerometer technology.
At just 16.8mm thin, this handset has been designed to fit easily into a pocket or handbag, a convenient alternative to lugging a laptop around.
The KS360 comes with touchscreen dialling, a 2MP camera and MicroSD card slot. It runs over GSM, GPRS and EDGE networks.
HTC Touch Pro
Following hot on the heals of the HTC Touch Diamond, the HTC Touch Pro is all about the enterprise user. It looks similar to the Diamond, but introduces a variety of business-focused enhancements on HSDPA 7.2 Mbps and HSUPA wireless connectivity.
HTC touch screen uses its 3D touch interface called TouchFLO 3D. TouchFLO 3D provides an intuitive way to zip through common tasks like messaging, calendar appointments or making calls with just one touch. Built in TV-out functionality also means users can deliver PowerPoint presentations straight out of the Touch Pro, cutting out the need for laptops.
Delve a little deeper and business users can find their music, photos, contacts and web surfing are all catered for. In addition to Web browsing, the Touch Pro includes an HTC-developed YouTube application for watching a video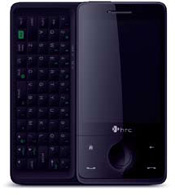 content, as well as including Google Maps for mobile for mapping and traffic data. Plus this device automatically rotates the web page view from a portrait to landscape view when you turn it on its side, for better viewing. And it has a nice 3.2MP camera.