At the close of 2016 Industry regulator Ofcom published data on the volume of complaints it received against the major providers of telecoms and pay TV services in which, with one exception, BT and its surrogate companies were sent to the naughty corner.

On 20 December 2016 Ofcom published its Telecoms and pay-TV complaints data for the three months up to September that year. You would be excused for not spotting it; like most of the media, the country was getting ready to hunker down for the two-week festive period. However, if you were BT then it was a great time to publish the data.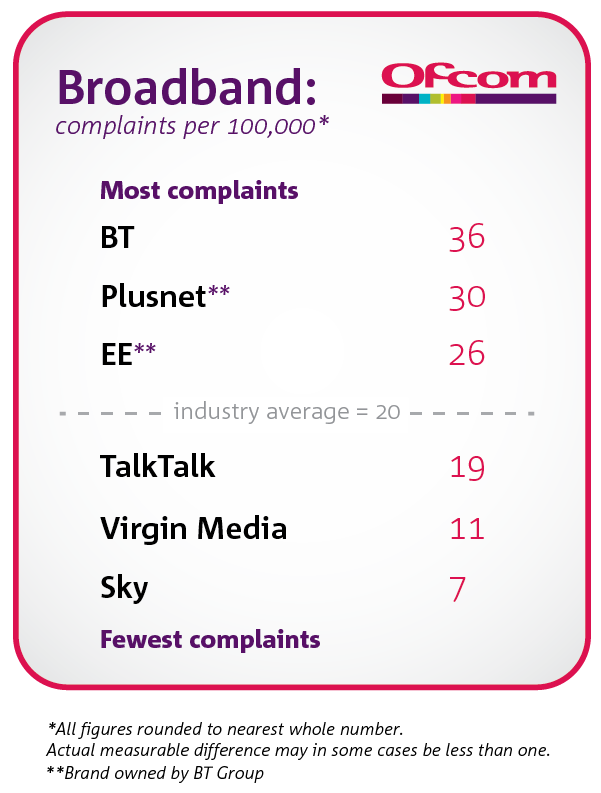 The latest report covers the three-month period from July to September 2016 (Q3), and includes complaints made about providers of landline telephone, home broadband, pay-monthly mobile and pay TV services. Complaints figures are presented per 100,000 customers.
Ofcom says that by publishing complaints data, they aim to give people who are looking for a new provider useful information for comparing companies' performance. They add that quarterly reports also offer an incentive to providers to improve their performance.The total volume of landline and broadband complaints made to Ofcom increased between Q2 2016 and Q3 2016, while the number of pay-monthly mobile complaints decreased and pay TV complaints remained stable.
Lindsey Fussell, Director of Ofcom's Consumer Group, said: "We won't stand for complacency when it comes to customer service. We expect providers to make it a top priority and work hard to better serve their customers.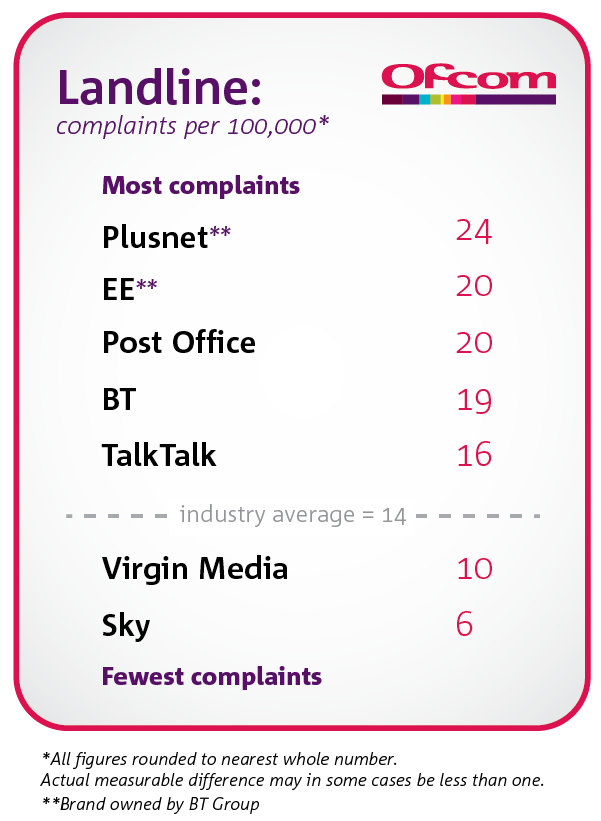 "If companies let their customers down, we will step in and investigate, which can lead to significant fines."
Landlines:
The Ofcom figures show that when it comes to complaints about landlines BT came close to occupying all three podium places with Sky (Soon to be Fox?) picking up the best score per 100,000 customers.
Broadband
Complaints over Broadband however sees BT making a clean sweep with the group brand leader in 'first' place followed by Plusnet (How proud must they be?) and new boys EE in the bronze position. Once again Sky get the lowest complaint score.
Mobile: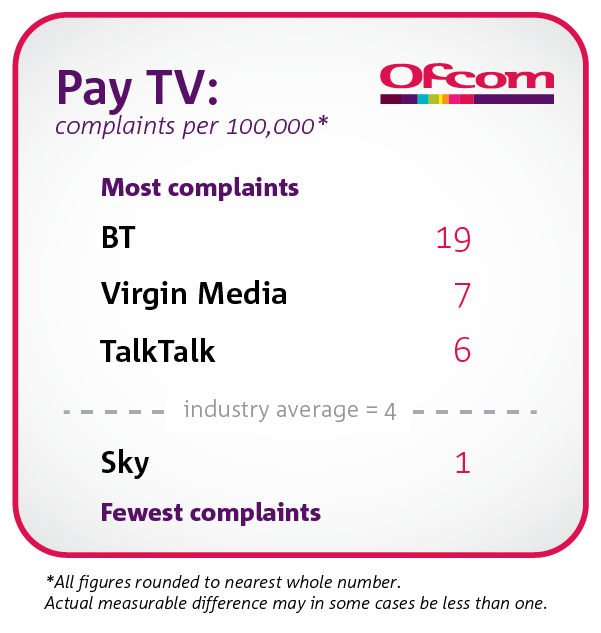 Quite simply, this is a poor performance by Vodafone and I am sure their boardroom will be asked and be asking some questions. Vodafone has 'topped' this league since Q4 2014 when they scored 15 complaints/100k customers going on to score a really poor 32 complaints/100k customers a year later in Q4 2015. The company has consistently improved on that nadir each quarter since but remains the stand out bad boy of the sector.
Pay TV:
Something is clearly going awry at BT here and the Ofcom scores probably reflect the fact that BT is more concerned with getting their subscriber numbers up rather than customer service complaints down. Yet another nice job by Sky who are clearly showing a clean pair of heels to BT Group in a number of areas.