How is the channel helping local governments to achieve their digital ambitions? Comms Business talks to the experts.

Over the past decade, local governments across the UK have been undergoing a digital revolution, with different authorities at different stages of that journey. The channel, and the partnerships within the ecosystem, have been vital in making technology accessible to councils, city authorities and other types of local government.
Stephen Cunningham, sales director for UK enterprises, Avaya, described how a shift to digital can empower citizens. He explained, "Digital transformation technologies, and for government contact centres in particular, technologies that enable the use of digital communication channels, so that citizens can choose how they contact their local authority for the information they need – including email, chat, phone, and FAQs.
"When citizens contact their local authority, it can be at a time of need, and local authorities have an obligation to ensure methods of contact do not become a barrier to gaining access to the services they need. Digital communication channels enable citizens to choose the method of engagement most appropriate to their accessibility needs and circumstances, ensuring the openness and inclusiveness of all services they offer."
Cunningham said that CCaaS platforms can be a perfect solution here, with "no stand-alone infrastructure" and the ability to "automatically push capability updates in real time with no software downtime or disruptions".
The underlying network is essential to delivering on these capabilities. Matt Spencer, sales director for the public sector, CityFibre, said, "More and more local authorities are looking at ways to improve services, increase resilience, reduce costs, provide flexibility, avoid being tied in and deliver more control. They often talk about decentralisation, local Internet break-out and cloud first. This basically means moving away from a traditional MPLS network which brings everything back to a data centre and instead move all their services to the cloud.
"This reduces what is called "tromboning" and removes complex networks. They want to simplify their networks and move towards SDWAN solutions, which provide them with full control, without having to wait for their service providers to make moves, adds and changes (MACS), which are often chargeable."
This shift towards digital can make significant contributions to local government cost savings. Nick Sacke, head of operations and pre-sales, Comms365, said, "Pressures continue to increase from the government to meet targets on climate change, improve health and social care and ensure that local infrastructure continues to meet increasing demand after the pandemic – all with restricted financial support. But technology can help councils to address and meet these challenges."
Sacke pointed to sustainability as an example. He explained, "By investing in IoT technology, current ineffective processes can be easily and dramatically improved – from creating an optimally efficient route to collect waste to reduce carbon emissions, to emptying the right bins, at the right time, to further improve green objectives."
The benefits, Sacke added, can trickle across citizen services. He said, "What if an individual's mobile device was to alert them in real time where a parking space was? Better yet, what if this space could be reserved, or set up a subscription model to park monthly? It's all about data collection and a better, more informed use of this data.
"By incorporating electric charging and disabled bays, as well as the use of innovative technology, re-engineered and revitalised parking solutions will boost council revenue and provide more efficient and customer-pleasing services, in turn, regenerating the high street shopping experience."
Joanne Green, sales director, public sector and transport, Neos Networks, also highlighted the sustainability advantages that can be unlocked through digital services. She said, "Sustainability is an important priority for local authorities. Alongside improving operational efficiencies, energy efficiency is finding itself at the top-end of the agenda.
"Today, local authorities want technologies that support their decarbonisation and energy-saving goals. More emphasis is being placed on smart technology and the evolution of smart cities which will be pivotal in helping to reduce the environmental footprint in their respective areas and regions. Whether through traffic monitoring software or streetlight sensors, smart technologies collect key data and analytics to drive operational and energy efficiencies in our cities.
"Not only is this pushing providers to think differently about technology procurement, it's also encouraging a shift in how connectivity providers operate and run technology to ensure it is truly embracing green practices. It's still early days in the sustainability journey, but the local authorities that will come out on top will be those capable of delivering green efficiencies, while increasing operational efficiency in the delivery of new services."
Smart cities
Much of the digitisation described above feed into smart city strategies, with many smart city projects across the UK reaching new levels of sophistication. For Jonathan Freeman, strategic growth and regulatory director, Cellnex UK, smart cities are truly opening up.
He said, "Smart cities are no longer just a buzzword – there is now real demand for the use cases that make a city smart and fully connected. Sometimes citizens and businesses won't even realise that what they need comes under the umbrella of a smart city – intelligent traffic control, efficient waste management and emissions tracking, for example, are becoming expected as standard.
"Understanding and agreeing on what a smart city is matters, because to create connected, efficient and intelligent cities along with associated economic and social benefit, the telecoms industry and local authorities need to work together to establish what the community within them needs and set out a compelling vision so everyone can align to deliver against this."
Freeman explained that, based on Cellnex UK's experience, smart cities are successful when three major factors are all present. The first is a commitment by the public sector to utilise the deployed infrastructure; that includes networks, platforms and services over the medium term, not just for pilot or short term trial activity. Secondly, existing local authority assets and capabilities must be used in partnership with network infrastructure providers. Thirdly, there must be an enhancement of public mobile network capacity as part of the programme.
He added that successfully smart city projects will involve a wide ecosystem of parties and different technologies. That includes: IoT using unlicensed spectrum for use cases such as street lighting, waste management and parking availability; enhanced mobile networks where 4G and 5G will be used for applications requiring high bandwidth and/or low latency applications such as video surveillance, AR/VR and other wide area applications; and dedicated private networks in campus environments throughout the city to provide critical connectivity in a major hospital estate or port environment.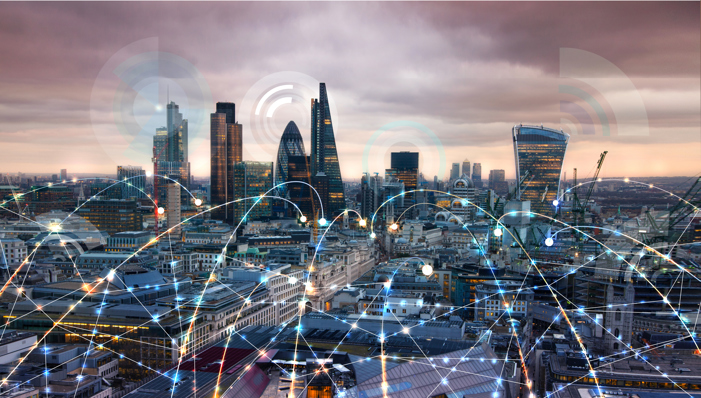 Growing demand
In terms of technologies that aren't currently in demand, but local governments are likely to adopt in the near future, Stephen Cunningham, sales director for UK enterprises, Avaya, pointed to more advanced citizen-centric services that could be implemented. He said, "Technologies that enable local governments to further transform to digital CX – which in this instance stands for citizen experience instead of customer experience.
"In the near future, local government needs to move beyond digital communication channels to also include AI, analytics as well as solutions from the cloud that enable agents to benefit from contextual information from broader data sources. With the right technology and integration partner, all these can work seamlessly together to enhance and optimise the citizens' experience in the government contact centre, which is the public sector equivalent of customer experience across customer journeys."
Now digital services are reaching mainstream, the next stage will start to unfold. Green, from Neos Networks, discussed the importance of the underlying infrastructure.
She said, "We're starting to see a big swing in the public sector towards higher capacity, high bandwidth connectivity solutions to support local authorities as they develop their blueprints for smart cities. Densely populated areas have received the lion's share of access to fibre infrastructure rollouts in recent years, in part because it is more economically viable for fibre providers to build in those areas.
"As appetite for foundational connectivity infrastructure increases and county councils win state-funded Local Full Fibre Networks contracts, we're seeing more towns across the UK invest in connectivity to attract new business to the area and to better support the local community. Certainly, over the next few years, a commitment to building foundational digital infrastructure that is future-proof will become more pervasive and equally spread across the UK, outside of densely populated urban areas."
Spencer, from CityFibre, added, "The biggest challenges for local governments are more budget cuts, the cost-of-living crisis and digital or social exclusion. Some forward-thinking councils are already looking at ways to address these. Supporting people in their care – as a whole, is one example. What they're discovering is that if they provide a fibre broadband connection, they can offer more monitoring and support services using new technology.
"Being able to communicate with vulnerable people straight away over video or via sensors is essential – for example, being able to track if a person with dementia is disorientated, giving carers time to reach them before a fall. This will prevent additional costs to other public sector bodies in the long term.
"Many ISPs are now offering social broadband tariffs to help with affordability, but this is only part of the problem. Connecting the digitally excluded needs the right devices, speeds, training and support. Once critical services like health monitoring are being delivered then quality of service will also become a key factor. Additionally, the more savvy local authorities are aware of the need to remove their current analogue exchange lines due to the 2025 switch-off, which is now fast approaching."
Over time, all aspects of citizen services will shift towards digital, spanning healthcare and education. Freeman, from Cellnex UK, said, "Over time we forecast that new use cases will emerge – most likely in some of the largest areas of local and national government spend, such as healthcare, social protection and education.
"Right now, healthcare provision within the community may not be the first thing that springs to mind when thinking of a smart city, but our largest and most essential services will, over time, become fully digitised.
"Real progress in these sectors will require extensive digital transformation, utilising both public and private networks across a city. To make this happen, digital must be at the forefront of local governments' strategies across all departments, and not just a standalone CIO agenda."
In the nearer term, it is also possible that IoT projects could contribute energy savings amidst the growing energy costs. Comms365's Sacke said, "With the price of oil and gas rising, producing knock-on effects in the cost of raw materials and transportation costs, and more, it is important for governments to look at where IoT technology can be used.
"Specifically, in the case of fuel poverty, monitoring temperature and environmental conditions in vulnerable households, together with energy consumption from the boiler will create a profile of energy use, highlighting which of the population require targeted interventions to assist with fuel bills and other assistance that the local authority has at its disposal.
"Smart radiator solutions can also be implemented to heat sections of the home that require it at different times of day, providing energy savings and improved living conditions. The IoT data collected could also profile and identify potential dwellings that have insulation, leaks, and other structural issues that affect the housing asset integrity and prioritise intervention."
On the go
With flexibility firmly in the spotlight, mobile connectivity is playing a key role. Freeman, from Cellnex UK, explained, "During Covid-19, our reliance on mobile connectivity increased. Mobile calls rose by 50 per cent as we tried hard to work from home, educate our children, stay in touch with friends and family, and keep essential services and businesses running. With no sign of this changing, our new approach to working and living places growing pressure on telecommunications companies and local authorities to deliver better digital connectivity to residents, commuters and visitors.
"With more people now working nomadically, the volume of data accessed on the go or in a wider variety of non-home locations has increased significantly. When combined with a shift to video-first interaction and greater use of real time collaborative work tools, there is now an urgent need to enhance public mobile network performance in urban and suburban areas."
Freeman described how networks could be improved to manage these challenges. He said, "To achieve this we will need to densify mobile networks and shift in the physical location of the network 'from the rooftop down into the street' via the deployment of small cells and other technologies. Local authorities have a key role to play here as asset owners and planning departments are the gatekeepers to enabling economic growth by being supportive of telecommunications deployment."
Pandemic aftershock
When asked whether the pandemic changed the technology requirements of local authorities, Neos Networks' Green explained how cloud adoption has been pushed forward.
She said, "The pandemic was costly for a lot of local authorities, a bigger strain on public services meant their technology requirements changed drastically and quickly. Competitively priced solutions have, are and will continue to be a priority for local authorities. More are exploring how they can reap the benefits of moving services into cloud environments. This will be a permanent change with frameworks in place that provide local authorities with a catalogue to procure best-of-breed hosting, software and cloud support.
"This will help to reduce costs of running public services while also providing platforms for smart city technologies to improve the efficiency and management of local infrastructure. Ultimately, local authorities recognise that technology is the catalyst they need to implement changes that can drive economic growth and bring opportunities to their citizens."
For Spencer, from CityFibre, the focus on flexibility is here to stay. He said, "The pandemic has massively changed how councils work and procure services now and in the future. Before Covid-19, for the majority of people, remote working was viewed as a perk, now it's the norm. IT Departments were able to have solutions signed off to support staff working from home when previously they were refused.
"Councils require flexibility now more than ever. They continue to be nervous about long-term contracts. They need to be able to close a building down or increase another site's bandwidth to accommodate staff movements, without being charged or penalised. More and more councils are now looking to break up their current managed service contracts and run two procurements for infrastructure and services.
"This enables them to consider longer term contacts for their infrastructure with flexibility built in, whilst shorter term on hardware and software which is always changing. The pandemic started this mindset change but it's one that is likely to remain with ever-reducing budgets and increasing cost pressures."
Cunningham, from Avaya, agreed with that perspective. He said, "The pandemic resulted in a transformation of the way that people work, and the technology to support this - not only working from home but working from anywhere - has consequently become much more important. Technology that previously was a cherry on top of the cake is now considered to be critical for attracting and retaining employees as well as to ensure business continuity in case another pandemic or other crisis hits."
Cunningham explained the cost-of-living crisis has brought many priorities from the pandemic back into focus. "The new challenge is the cost-of-living crisis, which has brought cost optimisation and resourcing back to the top of the agenda. For government contact centres to be efficient, they must be equipped with communications infrastructure that enables citizens to self-serve or connect in whichever way they want and for agents to be able to communicate effectively with citizens and colleagues from where they are working.
"AI can optimise both resourcing and digital customer experience journeys, and technologies that enable remote working can open-up a much wider and more inclusive workforce opportunity for public sector employers. For example, working parents who need to stay local to schools and nurseries, people who want shift flexibility, or those who may not want to do face-to-face but are great with online chat or over the phone."
Moving forwards, local governments will need to ensure the culture has adjusted to this digital-first environment. Sacke, from Comms365, commented, "The Covid-19 crisis has prompted a greater need and priority for local councils to be forward-thinking in how digital technology and data can help towns recover now and strive in the future. The value of IoT technology and the real-time data it collects is being recognised, and will help to inform better decision-making, introduce early interventions and reduce the cost of changing practices.
"For this to work in practice, there is a significant need for a cultural shift in the relationship local governments have with technology. The technological solutions must be designed around the user, creating a better customer experience, while ensuring any potential barriers to adoption are removed. The guiding principle for deploying technology as an enabler of these more streamlined processes is simplicity and invisibility to the user, while collecting valuable data for insight."
The future
It is clear from these viewpoints that local governments and their citizens are much more comfortable with technology than a decade previously. As for the future, smart cities will become even more of a reality.
Freeman, from Cellnex UK, said, "What we think of as a smart city and associated use cases will continue to evolve significantly over the next two years, driven primarily by the digital transformation of public service provision."
This will be transformative on many levels. Freeman added, "At an individual city level, alignment of industry and public bodies behind a compelling vision will be the crucial factor that enables deployment of connectivity to transform people's lives, boost economic growth and address digital inequalities."
This feature appeared in our February 2023 print issue. You can read the magazine in full here.