JUST CAPITAL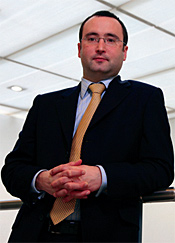 Complete Working Ltd
CAPITALISING ON BUSINESS OPPORTUNITIES WITH MOBILE CRM
Over half of UK businesses lose sales or cannot service customer requests when on the move, as they cannot access the necessary information.
There is no doubt that mobile applications are making consumers aware of the wide range of uses for their mobile phones beyond voice and text. While consumers begin to explore the plethora of applications available to them, enterprises are also questioning what mobile applications can do to improve their business processes. And as the business world becomes increasingly time critical, smartphone users need access to the information and software that allows them to work more efficiently, wherever they are.
App for you
From GPS navigation and currency converters, to accessing customer relationship management (CRM) systems and financial data on the move, there is an application to suit every type of business, from sole traders to
multinational corporations. By mobilising these key business systems, many companies not only see productivity and efficiency gains, but also reduction of costs and a higher return from leveraging existing IT spend.
For smaller organisations, productivity and management tools can now be directly downloaded from an application store. Larger enterprises can work with third party software providers or their own IT teams to mobilise key business systems to their entire workforce.
In fact, over 70% of Research In Motion's (RIM) enterprise customers use applications other than just email. The BlackBerry Enterprise Server enables these application deployments to be centrally managed and controlled, allowing IT managers to put policies in place to ensure their use complies with company guidelines and that their data is secure.
Tool for all jobs
However, in today's economic climate, it is those applications that can help companies acquire and retain customers while creating a competitive advantage that is gaining the most traction. This is why we are currently seeing more and more companies mobilising their CRM systems.
Indeed, CRM tools or mobile access to customer databases were named as one of the five most beneficial mobile applications, according to a recent study of small businesses in the UK by RIM and YouGov. Although the term CRM drifted out of the spotlight for a little while, these tough market conditions have made it more important than ever for companies to have the right tools in place to be able to service existing and prospective customers in the best possible way.
Mobilising CRM systems, whether it is a simple spreadsheet or comprehensive enterprise solution, can help improve levels of service by providing employees with the information they need at their fingertips to make decisions on the move.
Don't miss out
A recent study by Forrester, commissioned by RIM, illustrates this, revealing that more than half of European companies lost out on sales and service opportunities before deploying mobile CRM software. Meanwhile, 53% of organisations in the UK said they had lost a sales opportunity or were unable to service a customer request while they were travelling because the information they needed was back at the office. In tough market conditions, each and every sales opportunity becomes even more business critical and organisations must look to close as many deals as possible, as quickly as possible, or risk losing precious ground to competitors.
However, empowering employees with mobile CRM should not only be viewed as a potential sales stimulant in the short term, as it can also help companies build long term relationships, and therefore increase the amount of business done with their customers. The research from Forrester showed that although mobile CRM is most commonly used for sales (63%), it is closely followed by customer service (60%) and field service (51%).
Nearly three quarters (73%) of the companies questioned in the study who have deployed mobile CRM explained that it helps front line personnel be more effective in their jobs. This is because employees are able to instantly access up to date and accurate information, allowing them to answer customer questions correctly and make well informed decisions while on the move.
The main benefits of mobile CRM, compared to traditional desk-based access, were cited as improved productivity of frontline personnel, improved customer experience, improved customer satisfaction and improved business process efficiency. These enable organisations to increase sales and grow top-line revenues, another critical motive for adopting mobile CRM.
Back end support
In deciding how to move forward with mobilising CRM, it is advisable for companies to be cautious in deciding what information to make available, as well as ensure that any technology that is deployed is fully secure and manageable. It is quite possible that a smartphone could get left in a taxi or even be stolen. Having the support tools in place to be able to remotely lock and even wipe a handheld device can provide the reassurance that sensitive information does not get into the wrong hands.
Fortunately, adding mobile CRM functionality usually takes significantly less time than organisations' initial desk-based CRM rollouts, and many of our customers have found they are able to implement mobile CRM solutions in less than eight weeks. And with mobile application stores now offering downloadable CRM solutions at just a click of a button, these tools can be rolled out more quickly and easily than ever before.
Research In Motion (RIM) is a major designer, manufacturer and marketer of innovative wireless solutions for the worldwide mobile communications market, renowned for its BlackBerry handsets.