Making advances in the field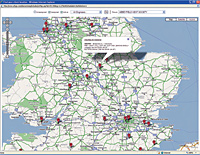 Advanced Field Solutions
Advanced Field Solutions (AFS) provides reliable, secure and real time integration between a field work force and an in-house service department to achieve total control and optimisation of workflow.
The solution itself is charged on a monthly basis and is completely web-based and enables a business to interact with any and all service staff. As with other solutions in a similar vein, the thought process is that the customer is brought closer by including them in the service process and therefore feels more valuable overall.
Grey collar target
Currently only available on a Windows Mobile platform, AFS focuses
specifically on the grey collar field worker which comprises staff who carry out a variety of service, inspection, estimates and installation tasks as well as customer delivery. The solution has already been operating with field-based service workers for over five years and looks to have evolved considerably over that period with the company never resting on its laurels. The challenges faced by businesses with an unconnected workforce are complex and require the detailed understanding that can only be generated over time with being actively involved in the environment.
Having seen these problems and also those that can arise with missing or delayed paperwork, the AFS solution is designed to provide management with the information they need at their fingertips to allow them to make key decisions in real time.
Slick design
Having worked directly with AFS myself for quite some time, I have seen the quality and flexibility of the application itself on a mobile platform and the huge range of services that are offered. However, the ultimate level of quality is only truly demonstrated once a user has access to the online 'dashboard' and all that it provides.
Of course, all the different toolsets available are tied to individual user access rights, but the excellence of the user interface and slickness of design is one that is rivalled by very few that I have ever seen.