One Man & His Blog - A green agenda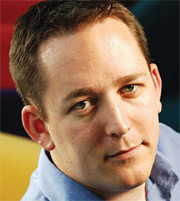 Mark Deakin of Microsoft
Microsoft's Mark Deakin provides his view on working towards a greener life
In today's world we are all trying to be a little greener. Wherever we turn we are implored to reuse our shopping bags, start recycling and stop wasting electricity. Companies, as well as individuals, are trying to cut their carbon footprint. The Confederation of British Industry recently stated that energy and the environment should be the top long-term priority for all businesses – reinforcing the need to start taking positive action.
Luckily, it is not difficult to be more ecofriendly in your working practices. Here are a few things to think about that will immediately reduce your impact on the environment:
1. Do you really need to travel for two hours for a short meeting? You would be better placed using video conferencing to host the meeting. Even if you need to give a presentation this can be achieved through web conferencing tools, cutting down the carbon emissions that come from travelling. I once did a presentation 1000 miles away from where the meeting was hosted because I didn't see the point in jumping on a plane to present for only half an hour.
2. To avoid international travel, sign up to online events. There is a growing trend towards conferences being hosted over the Internet, eliminating the need to travel to attend. The IBF have been championing the cause, having recently hosted an online conference looking at intranet innovation. The event was one of the first carbon neutral conferences, with all delegates attending online from the comfort of their offices or homes.
3. Avoid printing out emails unless absolutely necessary. This is particularly relevant when you are taking a train journey. I see this sometimes when I get the train from Reading to Paddington.
4. Work from home if you can. If you don't need to come into the office then use technology that allows you to work remotely. Communications tools such as Instant Messaging make it easy to stay in touch with colleagues wherever you are geographically located. It is better for morale and it's one less car on the road.