ROAM FAR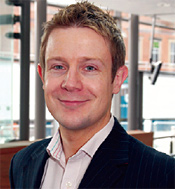 Tim Corke is the resident application reviewer for Mobile Business Magazine. Tim is marketing director and co-founder of Tracktech, a B2B communications company and software development specialist. He is currently focused on Tracktech's award-winning, Mastercardcertified BlackBerry software, eMERIT, which allows credit card processing on a single device. Tracktech is Tim's third start up company.
If you have any comments or suggestions for Tim, please email him through the editor: heather@mbmagazine.co.uk
As we steadily creep towards another English summer, there will be the annual mass exodus by UK residents to a warmer climate, for those who can tolerate the Euro exchange rate of course.
With it now standard practice for the vast majority of travellers to use their mobiles abroad, the yearly debate about roaming call and data charges is coming to a head once again. At the time of going to press, there were rumblings that some networks were to make international calls from certain countries available as part of domestic call allowances and therefore the same pricing structure. Although EU legislation has stated that these call charges are required to be reduced, it remains to be seen whether this finally comes to fruition as a viable option or not and, until such time, individuals and companies alike will be looking at ways to reduce international call spend.
BlackBerry app
Truphone Business is a BlackBerry application enabling business users to make international phone calls from UK mobile devices at fixed line rates, saving an estimated 50% or more on call charges.
In a nutshell, the service works by via a specific security policy that is put in place on a company BlackBerry Enterprise Server (BES) that specifies that the calls are routed through a specific channel.
A small piece of software is pushed to specific or all handsets. When a call is made the device manages the routing of the call via the BES, thus reducing call spend. Users simply dial an international number as usual without being made aware that the call is being connected via Truphone.
The above paragraph outlines, in very simplistic terms, what this software does and how it does it. However, there is undoubtedly a considerable amount of effort that has gone in to the understanding of the technology and how it
can be made available to the masses as a cost saving exercise.
Substantial savings
Calls to international destinations cost a fraction of mobile operator rates, with Truphone claiming to regularly update price plans, always guaranteeing revised substantial savings. Furthermore, with a presence in 33 countries, the infrastructure in place means that the potential savings are a genuinely global option.
Continuing on the premise that this is a business-centric application, Truphone offer centralised monthly billing with itemised and departmental reporting whilst making sure that there is never a quality compromise on the calls themselves.
Truphone Local Anywhere is an extension to the existing service that could spark some real further interest for savvy businesses and is due later in 2009. This is claimed to provide Truphone functionality in multiple countries, but from the same SIM card, offering further great savings on international roaming charges.
Make money
In terms of reselling opportunities, there is a Truphone Partner Program in place which is aimed at both helping partners to offer an additional service to their current customers, as well as selling BlackBerry devices to entice new opportunities.
As no specific training or technical staff are required to support the sale, it is a straightforward way for resellers to quickly earn more revenue with every BlackBerry sale. Nevertheless, Truphone offers training modules for sales and marketing teams, ensuring the promotion of Truphone Business is as seamless within a sales program as possible.
Every application vendor who offers some form of reseller program will, undoubtedly, make the same claims about additional revenue stream opportunities, but when the financial benefits of an application are as directly tangible as Truphone, it is a considerably easier sale.
Rather than offering a flat rate of commission to all resellers, Truphone has made the decision to start all partners on the same level, but allowing commission levels to grow as sales volumes increase.
If you're still unconvinced about the service for your business, then I'd recommend doing the same as we have done internally for this review and simply sign up for a free trial account. Truphone makes this available across the board to resellers and customers alike, so it can really be as easy as that to start slashing those relentless international call charges!