For many of us work happens just about everywhere. With the mobile technology available to us work doesn't need to be confined to the office anymore. However, is it really possible to get the same stuff done outside of the office? If so, how should resellers be approaching the concept of the 'mobile office'? Is it a simple sell? Where are the value-adds? David Dungay went to find out.


According to Ofcom, as of Q1 this year 71% of the UK adult population owned a smartphone. That's a lot of people with access to the internet on the go. When you take into account the number of people that use tablets (Statistica says 50% of us will use a tablet at least once a month by the beginning of next year) and then you throw laptops into the mix you start to get a picture of just how obsessed we have become with flexible access to applications.
As the phrase mobile working becomes common place in the business market there are still those that believe whilst it can be useful to get your emails on your devices it is still not feasible for mobile workers to get the same quality of work done outside as they can inside of the office.
Glynn Jones, Polycom's Vice President Advanced Technology Group, commented "Adapting to working in a mobile office is not always easy. Flexible working can be difficult at first, especially if you don't create clear boundaries and keep in contact regularly with your colleagues.
Without consistent collaboration with your team, it can be difficult to maintain high-quality work. It can be a struggle to see how and where your work fits in the bigger picture, leaving you and your team - and everyone's efforts - disjointed. However, this is easily solved by scheduling regular team meetings over video where everyone can catch-up and share progress updates."
David Samuel, MD and Founder of 24 Seven added, "Whilst technology has been an enabler for business, we can't lose sight of core values and the inherent need to communicate effectively. Mobile technology has seen us lose control to an extent, and that can't be good.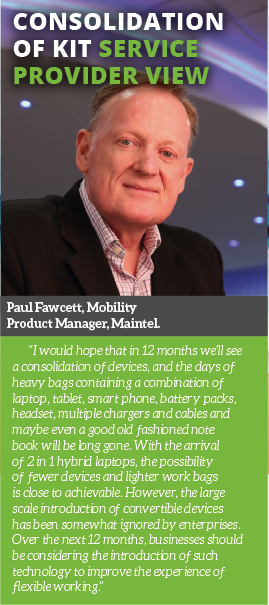 We'd like to see MORE human interaction, rather than less, when it comes to business telecoms. Our industry should be an enabler, not an alternative. The truth is, we achieve more face-to-face, and we can't lose sight of this."
When we asked Lorenza Brescia, CEO of iQela, what she thought the mobile office brings to a company she said, "Freedom! A truly Mobile Office solution – that is, one that is enabled through mobile network connectivity and which will work wherever you have mobile coverage, without the limitations of data-based or VoIP solutions.
Putting the specific features to one side for a moment, just consider the behaviour of many employees today. For example, the average person checks their smartphones up to 85 times each day – who actually checks their landline at all? If people are constantly on their mobiles, what's the sense of tying them to their desks? It inhibits productivity, reduces efficiency and isn't in tune with their own preference for mobile devices."
Martin Taylor, CMO, Content Guru, commented "There are of course some very legitimate concerns to bear in mind when taking the plunge with a mobile office. It is well worth considering the personal touch, for example. In many circumstances, the ability to directly interact face-to-face can be invaluable, particularly in collaborative circumstances, or even during client visits to offices. Be wary of the poorly integrated mobile office, which could lead to convoluted communications and inconsistency across a team or organisation.
A mobile office based on a secure, well-deployed integration, however, is a different story – and much more exciting. In line with increasingly prevalent BYOD culture, the mobile office gives you all the capabilities of the office without the geographical limitations. You can do everything you need whilst on the move, on a range of devices, and not be marked 'OOO'. This opens up more opportunities for direct, face-to-face collaboration with customers, suppliers, or whoever else you're meeting. Of course, mobile office technologies such as WebRTC enable real-time video conferencing, and another way to make the most of face-to-face interactions. A mobile office also enables greater continuity; for example, the ability to seamlessly transfer a call to a colleague's mobile maintains the impression of being transferred within a physical office environment."
Selling Approaches
When it comes to selling the 'mobile office' it can be a bit of a minefield. For starters, the 'mobile office' means different things to different people. Although the definitions may vary the outcomes remain the same. So, how do you sell the mobile office proposition?

David Samuel says, "To date, no-one has properly sold the concept of the mobile office – rather, alluding to case-studies and anecdotes. There are opportunities out there. Particularly with provisioning the RIGHT solutions, in a well-managed and cost effective way.
We can see a scenario, whereby in certain industries resellers have a clear role in delivering a complete outsourced office function to the employee. This can include all telecoms and IT solutions, and even products outside of our remit, such as work wear. Just imagine that turning up by courier, with the employee all set to get stuck in, straight away."
Glynn Jones commented, "Resellers should think about perception changes in order to identify upselling opportunities in line with changing purchasing trends. The mobile office should always be understood as a concept, as there is no real value in selling individual "bits of kit". The reality is that globally, companies are embracing change in the workplace, and this has translated into new collaboration needs. Resellers that remain focused on the individual end-points or solutions are using yesterday's approach when they want to compete in tomorrow's industry. Business needs and demands have changed, so selling strategies need to adapt. The mobile office is a new way of working, and to make the most of the opportunities that the future of work presents, resellers need to keep in mind that this new way of working requires a holistic approach.

For anywhere working to work, it takes more than small-room endpoints. Ease of use is extremely important when it comes to making the mobile office concept a successful one. One of the most important things vendors need to get right when developing solutions for flexible workers is the user interface. Home office solutions, as well as mobile solutions for 'on-the-go working', need to feel like an extension of the office, so the Unified Communications (UC) system needs to be professional, but also needs to keep the user interface consistent. Resellers have the opportunity to exploit this when selling a 'mobile office' package."
Anne Marie Ginn, Senior Category Manager at Logitech VC, explains, "Flexible and mobile working are no longer nice perks open to a select few. Many employees expect it as standard, and employers risk missing out on critical talent if they can't offer and support this expectation. To appeal to forward-thinking employers, resellers should ensure that they aren't just focusing on individual solutions, instead being able to advise on what the optimal holistic set up should look like. To do so, resellers should look to provide innovative customer use cases, showcasing their overall technology suite supporting a mobile working culture rather than just the individual components themselves. By adopting such a strategy, resellers can appeal to forward thinking customers whose continued success will guarantee their return custom."
Future
There is no doubt the future is looking mobile. We asked the market what they thought the future held when it comes to the mobile office.
Lorenza Brescia said, "We think there will be growing recognition of the need for mobility. People understand UC but they are also questioning how it can be integrated with their mobile lifestyles. Data dependent solutions aren't really the answer – but a SIM-enabled service offers a truly mobile experience, which is what people expect today.
As a result, we anticipate growing demand for truly mobile solutions and, at the same time, increasing demand for related services, such as Mobile Call Recording, driven by the need to ensure regulatory compliance."

Dan Cunliffe, MD of Pangea, says "We believe that the future of the office, never mind the mobile office, is to extend a company's capability to access services and applications from the things that are part of the workforce ecosystem. For example, the future of the mobile office will include the addition of work vehicles, employees and company devices to form a part of the company's fabric that can improve business efficiencies. For example, you can monitor your fleet as well as the energy efficiency of your company devices as part of the connected office. People who work at the company will always need to connect, but what about connecting the people through mobile solutions like loan-worker for your engineers and key staff?"
Glynn Jones added, "Selling services, not just solutions, is also key to maximising the current opportunities. As-a-Service models are an attractive proposition for larger organisations that experience capacity peaks and troughs. At Polycom, we believe that a good services offering will be key in order to truly deliver the best possible unified communications experience."
Martin Taylor commented, "The prevalence of technologies such as mobile devices and social media mean that the mobile office is increasingly expected to be a standard offering within resellers' portfolios, so this market is definitely on the up. With over 2 billion smartphone users worldwide by 2016 and 60% of employees already accessing content from outside the office, BYOD culture is becoming ever more prevalent. We expect to see resellers taking advantage of more collaborative technologies – such as WebRTC – in the coming year as these enable the mobile office to become a more coherent extension of BAU operations. Consequently, 76% of organizations are planning to invest more in mobile technologies in 2016-2017 (according to IBM). Security, as ever, is paramount, so with this in mind it's definitely worth keeping an eye on this space."
Ed Says... Whether you recognise the mobility trend or not, your customers are all working more flexibly, or whilst mobile, than ever before. By looking beyond simply furnishing customers with a device resellers will find a whole world of opportunity. Security is just one of these areas, hackers are going after smartphones in a big way right now as many people still aren't aware of the need to protect themselves. This lack of knowledge is leaving businesses vulnerable. In essence, delivering a fixed office working experience anywhere is the name of the game and bringing this to your customers in a safe reliable way will not only supercharge their businesses, it will cement your relationship with them too.