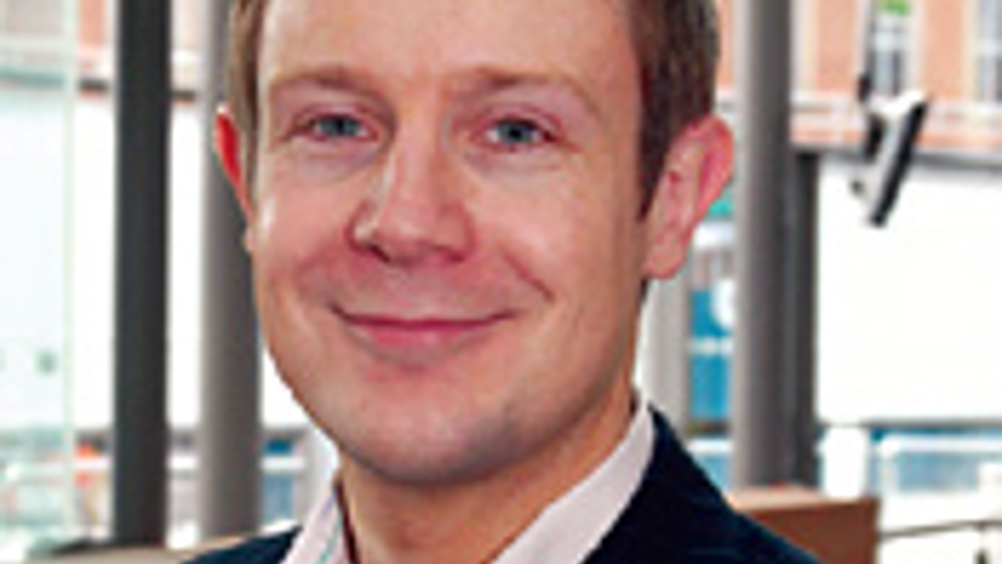 STOP THE TRAFFIC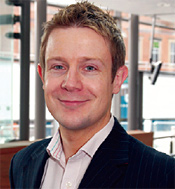 Tim Corke is the resident application reviewer for Mobile Business Magazine. Tim is marketing director and co-founder of Tracktech, a B2B communications company and software development specialist. He is currently focused on Tracktech's award-winning, Mastercardcertifi ed BlackBerry software, eMERIT, which allows credit card processing on a single device. Tracktech is Tim's third start up company.
If you have any comments or suggestions for Tim, please email him through the editor: heather@mbmagazine.co.uk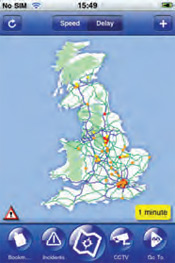 I would imagine that the majority of people reading this article will spend some of their personal or professional life stuck in traffi c jams. I would also imagine that a pretty high percentage of readers will now have some form of sat nav available in their cars. Of those sat nav users, an increasingly high number will have some sort of always on connection which informs them of current incidents on their journey that is going to affect their journey time – normally in a negative way!
Pocket scanner
I suspect most people are in the same situation that I am whereby there is, near to their desk, a huge folder or drawer that is bursting at the seams with business cards collected over a period of some years. These cards contain an absolutely invaluable level of information across the channel and can provide us with the level of contacts that we need to contact just about anyone we are required to.
However, how to keep an accurate and permanent record of that information is another matter altogether.
ABBYY, already a provider of document recognition, data capture and linguistic software, recently announced the worldwide availability of its Business Card Reader 2.0 for Nokia smartphones running on Symbian S60. The new application transfers contact information from business cards directly to the mobile phone's address book by using the smartphone camera and ABBYY's text recognition technology. It helps people save the time and effort typically spent on typing in names, phone numbers, emails and other key information.
Sat-nav-tastic
Personally, my sat nav is pretty effi cient at telling me when there is an incident at some point along my intended route and I have used the detour functionality with great success on many occasions.
However, I have been equally frustrated at being informed of a traffi c jam that I am already sitting in, being informed of a detour for a traffi c jam that no longer exists or, worst case scenario, not being informed of a jam at all.
With Traffi c TV, the concept is that you spend more time enjoying life, rather than queuing in Traffi c jams. With less time spent stuck in jams during business travel, not only will there be a fi nancial saving, but this also helps businesses 'do their bit' to fulfi l their green policy and help minimise damage to the planet at the same time. (Ed says: There is a calculator online so you can see just how much can be saved.)
Powered by Traffi cmaster
Traffi c TV is powered by Traffi cmaster and actual content from the blue cameras at the side of the road or on bridges (Ed says: So that's what those cameras are for! I always wondered…blue camera mystery solved) is sent directly to a mobile device. There are over 8,000 of these cameras in the UK and these enable Traffi cmaster, the UK journey management company, to accurately tell Traffi c TV where any delays are.
This accurate live traffi c information can now be delivered directly to a mobile device, which means that you can actually get real time visual confi rmation of exactly where the traffi c delays are, either before or during a journey.
Traffic TV is compatible with the vast majority of handsets on the market that have a colour screen and that will also support Java. When you connect to the Traffi c TV service, the latest delays are automatically sent to the device and appear as fl ashing icons on top of the displayed map.
Zoom and spy
One really cool part of this app is the ability to zoom in and spy on where you're thinking of driving. Zooming in to the area of interest will reveal either how fast the traffi c is moving or how many minutes delay will be experienced
above the standard journey time, helping you to make a quick decision on which way not to go. Beyond these standard fl ashing icons lies the additional piece of major interest for me; live CCTV imagery. This means you can actually view a live feed of the traffi c fl ow in any area that is of interest to you, and maybe try and spot your better half driving about town. So, next time your sat nav tells you to take a detour because of traffi c problems 10 miles away, think about what is really happening up ahead and whether you'd like to be using Traffi c TV to get a true answer to that question. I know I would!
Multi lingual