TALKING THE LINGO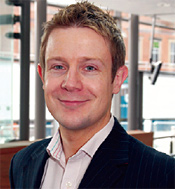 Tim Corke is the resident application reviewer for Mobile Business Magazine. Tim is marketing director and co-founder of Tracktech, a B2B communications company and software development specialist. He is currently focused on Tracktech's award-winning, Mastercardcertified BlackBerry software, eMERIT, which allows credit card processing on a single device. Tracktech is Tim's third start up company.
If you have any comments or suggestions for Tim, please email him through the editor: heather@mbmagazine.co.uk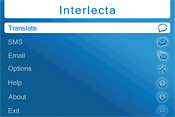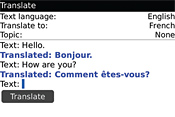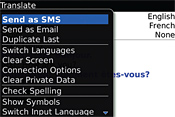 Interlecta has recently announced that its mobile translation application is now available for download, which allows users the freedom of unrestricted translation, no matter where they are.
Business travel is incredibly commonplace now that boundaries are blurred across Europe and the rest of the world, particularly as we all look for ways of using more opportunities for our products and services in new and emerging markets.
Talk louder...
Despite a willingness to attempt (and I use the word extremely loosely!) to speak a few phrases in whichever country I am in, it always remains a constant embarrassment to me that we, as English-speakers, generally expect the rest of the world to conform to a language we can easily understand. It's a way bigger debate than I have room for in this article as to whether or not this is the correct attitude, but it still remains a fact within our society.
When I saw this application, it struck me as a potential for a halfway house between fully learning to speak several different languages and not even attempting a few foreign words here or there.
The Interlecta Translator application mobilises a comprehensive set of translation tools that were previously only available on a desktop application. In a nutshell, the tools provided are as follows: High accuracy translation of the text from one language to another; fast translation of logically linked sentences, not just separate words or phrases; translation of incoming and outgoing SMS and email messages; user friendly interface and integration with the standard device menu options; 30-plus languages supported at present.
Pronounce clearly…
When travelling, there is normally more than enough on our minds already as meetings are generally of a fairly high level nature and require detailed forethought and preparation, generally meaning we won't be focusing on the language disparities we are to be faced with. The official statement from Interlecta states that the Translator application makes translating incoming and outgoing messages 'child's play' and this will be welcome news for many of us.
Interlecta have developed key translation solutions that can be used for work or indeed personal use, and provide improved responsiveness and efficiency to users when communicating with foreign contacts. They are currently even developing extra features that are soon to be incorporated into the app, such as translating text from an image and pronunciation of the translated text in the voice of a native speaker.
Jolly good show…
Established in 2007 by a seasoned development team with serious background and great authority in the field of machine translation and messaging, the guys from Interlecta do have a strong pedigree for development and have been rewarded accordingly. Over the past year, Interlecta was awarded the 'Top Innovator' position at the Mobile Innovation Global Awards at the GSMA Mobile Innovation Contest in Barcelona, and was also selected as first Runner Up in the 2008 Nokia 'Mobile Rules' Enterprise Application Contest.
I always believe it is positive for application companies to be recognised by
their peers in the mobile and convergence sector, because the competition is so tough in the mobile application space that there is rarely an undeserving nomination or winner.
The Interlecta Translator is a truly powerful application that enables business people to use translation services that seamlessly integrate with the functionality of the smartphone services that they are already effortlessly familiar with on a day to day basis. This can truly help to break down the international boundaries that are still a problem for so many businesspeople and businesses alike.