Rakesh Parbhoo, CTO, Westcon-Comstor, talks to Comms Business about the recently unveiled PartnerCentral platform. He provides an insight into the capabilities and functionality partners can expect.

Westcon-Comstor recently announced the launch of PartnerCentral, a multivendor marketplace where partners can configure, quote, and order solutions. Rakesh Parbhoo, CTO, Westcon-Comstor, caught up with Comms Business to explain what this means for the company's partners.
PartnerCentral aims to provide a digital gateway to partner success. Partners are able to use the platform to: buy multivendor solutions in one place, reduce manual tasks by using quote and order automation, get advanced pricing automatically, use self-service capabilities, as well as being able to manage renewals and customers at a glance.
Parbhoo explained, "PartnerCentral goes beyond what exists today when it comes to marketplaces in the channel industry. It's what we're describing as a marketplace, and more. PartnerCentral represents a transformative shift in the way Westcon-Comstor works with its partners."
The new platform will bring together many elements of the distributor's offering for its partners. Parbhoo said, "PartnerCentral is paving the way for a frictionless sales experience, but its capabilities extend far beyond the transactional.
"While the platform hosts a range of multi-vendor sales solutions designed to simplify the software buying experience that partners have to manage, the platform also gives our partners access to powerful data and insights, learning and vendor content – all essential for business growth and success."
The aim is for the platform to meet expectations as the world becomes increasingly digital. Parbhoo commented, "Through process improvement, smart integrations and information, PartnerCentral helps partners increase productivity, efficiency, and automation, streamlining their business for success in today's digital world."
The platform provides partners with insights and analytics that aim to help improve their business and customer relationships. Parbhoo said the tools provided help partners to "harness data and insights to grow and optimise partner revenue, all from one accessible online dashboard".
He added, "Partner Insights offers descriptive analytics that help spot new opportunities, act fast on business and industry trends, and manage renewals proactively and easily. By tracking business data, users can access additional management information and use the data insights to better understand the market changes and drivers for their business and customers."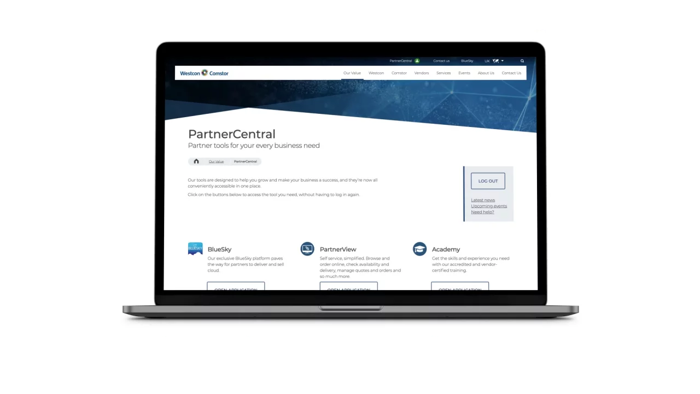 Changing the buying process
The new platform is aiming to solve a few problems for Westcon-Comstor's partners, particularly around new buying processes and/or purchasing models.
Parbhoo said, "Due to the complexities associated with buying technology services, B2B buyers increasingly want to engage with suppliers through simpler digital and self-services channels. This shift, together with the increasing adoption of subscription and as-a-service models, is creating a demand in the channel for a change in the way we buy, sell, and manage technology."
Parbhoo added that the company's partners have asked for more responsiveness, and ease of engagement. In addition, a survey sent out to Westcon-Comstor's partners found that 60 per cent of them felt a single platform to buy hardware and software would benefit them.
As such, Parbhoo explained, the platform "aims to support partners, by giving them tools, data and insights to serve their end customers".
Lighting the path ahead
Westcon-Comstor believes automation and digital transformation will change the Channel landscape, and the way businesses buy, over the coming years. Parbhoo explained the PartnerCentral platform aims to support this in a few ways.
He said, "Automation is becoming essential to businesses across the channel, due to its ability to increase efficiency in some of the more laborious, basic tasks. As technology advances, end-customers expect a frictionless sales experience from quoting through to delivery. While external factors, such as the semiconductor chip shortage, could always disrupt the supply chain, automating the sales process can dramatically decrease the margin for error."
The benefits to all stakeholders, Parbhoo explained, will be wide-reaching. He said, "By automating the sales process from quoting, through to delivery, it'll be more accurate, fast and easy-to-use."