Global cybersecurity company Forcepoint has introduced a suite of cloud-native SASE solutions, featuring new Cloud Security Gateway and Private Access offerings.

The Dynamic Edge Protection suite brings together converged capabilities help to address the most critical work-from-home security challenges across enterprise network security, threat protection, secure access and data protection.
The suite of solutions will be delivered through a SASE architecture approach. Gartner's recent "Hype Cycle for Network Security, 2020" report explained that: "True SASE services are cloud-native — dynamically scalable, globally accessible, typically microservices-based and multitenant… SASE will enable I&O and security teams to deliver the rich set of secure networking and security services in a consistent and integrated manner to support the needs of digital business transformation, edge computing and workforce mobility."
The Forcepoint Dynamic Edge Protection suite of SASE solutions enables enterprises to use the cloud to transform their network and security architectures, simplify connectivity and unify security policy enforcement. The company's new converged cloud services, Cloud Security Gateway and Private Access, give global enterprises better visibility, control and protection for users and data against threats and loss, wherever people are working.
Below: The new Cloud Security Gateway's policy management feature.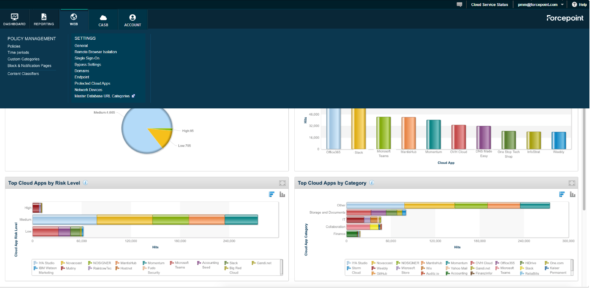 Nico Popp, chief product officer at Forcepoint, said, "Today's business environment is irrevocably changed as Covid-19 has introduced the security risks of the difficult-to-manage work-at-home environment. A SASE architecture approach that is cloud-first, end-user aware and powered by a converged security platform with unified user policy delivers a compelling path forward.
"With Cloud Security Gateway and Private Access, Forcepoint is today introducing the industry's first true cloud-native SASE solutions, that make it easy for enterprises to adopt by simply extending their existing on-premises policy to the cloud to protect work-from-home users. Forcepoint's data-centric SASE is the answer to securing the new mass telework workforce.
"For security teams today, it is as much about protecting the user against threats as it is about enabling home users to securely connect to corporate applications in the cloud and on-premises, while controlling and protecting the data that home users are accessing and moving to their insecure home."
Customers can purchase an annual subscription to the Cloud Security Gateway for approximately £75 per user per year (99 USD) or Private Access for approximately £60 per user per year (79 USD).