Andy Jassy, CEO of Amazon Web Services (AWS), yesterday presented the opening keynote at the company's re:Invent conference. Running over three weeks, the company will be holding a total of five keynotes on topics ranging from partners through to infrastructure and machine learning.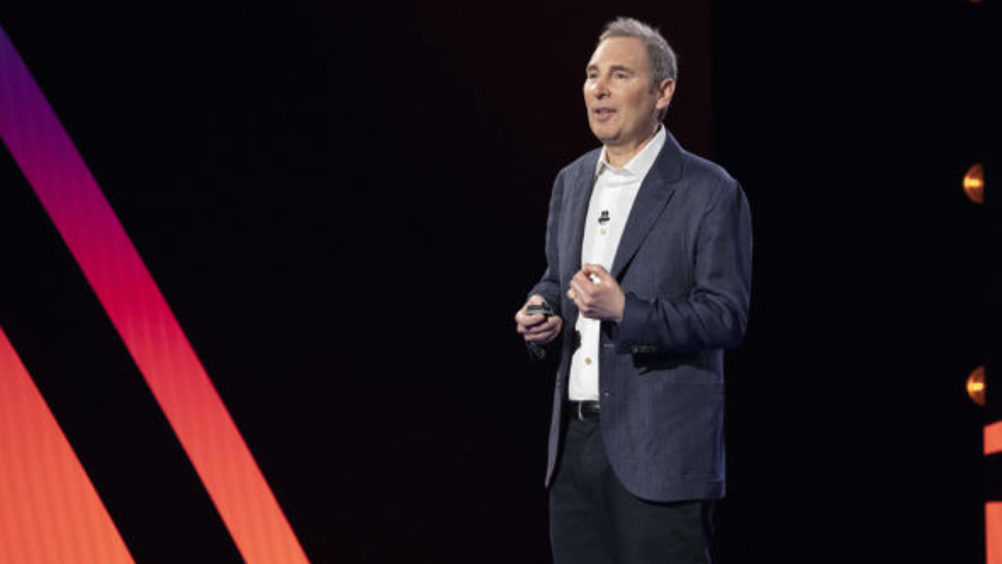 "It's a little bit different this year. One thing that's similar is we have a lot of people congregated – well over 400,000 people have already registered and we'll be at 500,000 by the end of the week.
"As always, re:Invent is first and foremost an education and learning conference. And this year will be no different. We have well over 500 technical sessions, and while we'd all like to be together, I think one nice part about it being virtual is that you don't have that session collision that you sometimes have. It'll all be online, some will be scheduled, most of them will be on-demand, so it'll be much easier to see everything you want."
Jassy started with an overview how 2020 has impacted cloud adoption. He said, "When you have a period of discontinuity like a pandemic, companies take a step back. They rethink what they're doing, and what they want to stop doing.
"One of the things that we've seen is that enterprises have gone from talking about cloud to having a real plan. That, I think, is going to be one of the biggest changes that we will see. When you look back on the history of the cloud, it will turn out that the pandemic accelerated cloud adoption by several years."
Jassy then examined how organisations can build a culture of reinvention. This, he explained, is vital as "you want to be reinventing when you're healthy" – not when your business is in bad shape and needs to reinvent simply to survive. He pointed to eight 'keys' that can help build that reinvention culture. These were:
Leadership must be willing to invent and reinvent
You need to acknowledge that you can't fight gravity
You need talent that are hungry to invent
Focus on solving real customer problems
Use the platform with the broadest and deepest set of tools
Pull everything together with aggressive top-down goals
Point four stemmed from Jassy's view that competitor-focused companies do not deliver for their customers in the way that product-focused companies do. This, Jassy said, is because those organisations build things they see competitors doing – instead of pinpointing and delivering on what customers actually need.
"All of these keys, except for maybe one, are not technical," Jassy explained. "They're really about leadership. You've got to make sure that you embrace these types of keys to build a reinvention culture. It's very doable, but you have to embrace it."
Reinventing compute
The first announcements centred on how AWS in "reinventing compute". Jassy handed over to Jerry Hunter, senior vice president, engineering, Snap Inc. Hunter said, "You might think that there isn't much left to reinvent when it comes to compute, but the innovations keep coming."
Jassy then pointed to the three major modes of compute – instances, containers, and serverless. "These three modes of compute are here to stay. They're going to be here for a long period of time. Let's start with instances, if you look at Amazon EC2, which is our service that lends instances to you.
"We not only have the broadest array of instances, but we also have the most powerful instances within those families. These are things like the fastest networking instances where we have 100Gbps in all our recent generations and up to 400Gbps in our P4d's. we have the largest high memory instances… we have the largest local storage instances with our D3en which was launched today with 336TB."
"We're the only ones to give you a Mac OS instance type, which we just launched last night with our Mac OS EC2 instances. That lets Apple's millions of developers now access the cloud much more easily. We're the only provider that gives you the ability to run instances with Intel, AMD and Arm chips. It's a very different set of capabilities than anybody else has."
Jassy then examined AWS' container offerings – Amazon EKS, Amazon ECS, and Amazon Fargate. "When we launched these offerings, we wondered whether once we had a managed Kubernetes service, would people use the other offerings? What we've found is that all three of these container offerings continue to grow like a weed – unbelievably fast. If you look at ECS, we have over 100,000 active customers. We have billions of compute hours on EKS. Most new customers in AWS start with Fargate because it's so easy to get going.
"We actually have a number of customers that use two – or even three – of these container offerings because different teams have different preferences and different use cases. You want the right tool for the right job. You don't want one tool to rule the world."
Here, Jassy made two announcements – Amazon ECS Anywhere and Amazon EKS Anywhere. These allow customers run containers in their own data centres whilst they make the transition to the cloud.
"What we're also starting to see, in addition to huge amounts of containers growth and adoption, is that more and more customers are using event-driven, serverless computing. We pioneered this concept a few years ago with Lambda," explained Jassy.
"Lambda lets you set a trigger with a few lines of code. We spin up compute for you in a fault tolerant way, we spin it back down when you're no longer running jobs, and then we bill you in increments of 100 milliseconds. I'm announcing right now that we're changing that increment in which we are billing you from 100 milliseconds to 1 millisecond, which means for a number of workloads customers will be able to save up to 70 per cent."
Jassy said that customers frequently use containers and severless together, and wanted it to be easier to run these units of compute together. To help with this, Jassy announced the launch of Lambda Container Support which, Jassy explained, "lets you build Lambda-based applications using existing container development workflows".
Next, Jassy announced AWS Proton which is designed to "manage the deployment challenge in a pervasive way". Jassy said this is "the first fully managed deployment service for container and serverless applications".
Data storage
Jassy then turned his attention to data, and said that "compute is obviously being reinvented, but so is data and data stores – in a very big way."
He pointed to successes of the Amazon Elastic Block Store, launched in 2008, and discussed customer feedback that they "love" gp2, but would like a reduced cost per gigabyte and would like to be able to scale throughput without also having to scale storage.
To meet these needs, Jassy announced gp3, which "allows you to have 20 per cent better cost per gigabyte, as well as being able to provision throughput separately from storage". Jassy also said that more SAN features are coming in 2021, including: multi-attach, I/O fencing, fast snapshot restore, and elastic volumes. These updates, Jassy said, will be a "huge game changer for demanding applications".
He then turned his attention to Amazon Aurora, which he said is "the fastest-growing service in the history of AWS, and has been since its launch".  Jassy announced some new features for the relational database service, including the launch of Amazon Aurora Serverless v2.
Jassy said, "This totally changes the game. You can scale up as big as you need to instantaneously. It only scales you up at the precise increments that you need to. So, if you're using Aurora Serverless v2, you can save up to 90 per cent versus provisioning Aurora for the peak.
"I ask you, how many of these old guard, commercial-grade database companies would build something like Serverless v2, that's clearly going to take a meaningful amount of revenue away from their core database offering? I wouldn't hold your breath. I think the answer is none of them. They're just not built that way.
"We have a different way of thinking about our business which is that we're trying to build a set of relationships and a business that outlasts all of us. And the best way we know of doing that is listening to what customers care about. If we can help you build more, more efficiently, more effectively, change your experience for the long-term – even if it means short-term pain for us, or less revenue for us. We're willing to do it, because we're in this with you for the long haul."
He then announced Babelfish for Amazon Aurora PostgreSQL which, he said, is an "enabler for customers to move away from old guard databases". The launch of AWS Glue Elastic Views followed, which allows customers to move from source data store to a target data store. Jassy explained, "There is a lot of power in giving that freedom of movement of data."
Jassy drew parallels between old views that search or technology infrastructure are boring because people thought there was nothing left to invent. This is similar, Jassy said, to the view today that data storage is boring as there's "not much left to invent". Yet these updates, he said, show there is a lot left to do in this space.
Machine learning
Next came an update on SageMaker, the company's machine learning service. Jassy said over 50 features have been added over the last year and AWS is focused on tackling the reality that data preparation for machine learning is hard.
Jassy then announced Amazon SageMaker Data Wrangler (a service the company says is "the fastest way to prepare data for machine learning"), Amazon SageMaker Feature Store (a new repository that makes it simpler to name, organise and find features) and Amazon SageMaker Pipelines (which enables users create machine learning workflows). Jassy made it clear more products and functionalities are on the way. He said, "We're not close to being done innovating here."
Jassy also spotlighted the company's machine learning capabilities, pointing to products offer artificial intelligence services in the following categories: vision, speech, text, search, chatbot, personalization, forecasting, fraud and development.
Unlike many blue-sky tech CEOs, Jassy was realistic about how the majority of businesses view machine learning. Organisations don't hire managed services providers to do machine learning, they hire them to get a certain job done. These capabilities might be exciting for developers and technical teams, but AWS partners should figure out the right way to discuss these capabilities with their customers. Machine learning alone is not transformative – it's the problems machine learning can solve that matter.
Jassy echoed this point in his announcement of Amazon QuickSight Q. This new capability in Amazon QuickSight is a machine learning-powered natural language capability that allows users to ask questions and get answers in seconds. Jassy said, "Customers didn't hire us to do machine learning here, they hired us to answer questions and they don't care whether we use machine learning or not."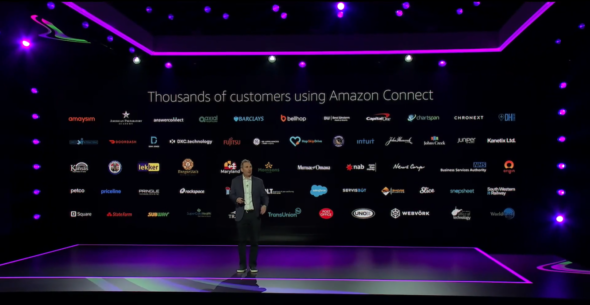 Jassy then provided an update on Amazon Connect, the company's omnichannel cloud contact center solution, with several launches. Firstly, Amazon Connect Wisdom is now available. This, Jassy said, reduces the time agents spend finding answers for customers. Secondly, Amazon Connect Customer Profiles gives agents a unified profile of each customer to deliver faster, more personalised customer service. Jassy said that "this changes how agents can have holistic customer interactions".
The company also launched Real-time Contact Lens for Amazon Connect, which provides real-time knowledge and information about how customer interactions are going so issues can be identified in live calls. In addition, the company launched Amazon Connect Tasks and Amazon Connect Voice ID. The former automates, tracks and manages tasks for contact centre agents, whereas the latter provides real-time caller authentication without disrupting natural conversation.
Jassy also launched several new products designed for industrial and manufacturing environments. First up was Amazon Monitron, which is an end-to-end solution for equipment monitoring. Second was Amazon Lookout for Equipment, which provides an anomaly detection service for industrial machinery. Finally, Jassy announced AWS Panorama Appliance, a new hardware appliance that allows organisations to add computer vision to existing on-premises cameras.
Hybrid cloud
Jassy then discussed 'hybrid', the combination of cloud alongside on-premise data centres. This, Jassy said, led to "breathless debate about whether this would end up a binary solution where you only used the cloud, or only used on-premise. We probably contributed to a little bit of that confusion because we stated our then very strong belief, and now even stronger belief, that the vast majority of companies in the fullness of time will not have their own data centres."
Jassy said, through reflecting on ideas that never got traction and the quick cloud adoption of this year, AWS has gone back to the question of what hybrid really means. Now, Jassy said, the company sees hybrid as "the cloud along with various other edge nodes, on-premises data centres being one of them".
He then pointed to the company's collaboration with VMware. This, Jassy explained, stemmed from the two companies together building VMware Cloud on AWS which allowed customers to use VMware tools (that they had used for many years in their on-premise data centres) to manage their infrastructure in the AWS cloud. Jassy said, "It's a very unusual partnership and it's gaining a lot of momentum and a lot of steam." Jassy said that a lot of customers, including the Scottish Government, are using this offering.
This led to an update on AWS Outposts, announced two years back and launched last year, which allows companies to run AWS infrastructure on-premises. Jassy announced two new formats of AWS Outposts, including a "pizza box size" offering, so customers can run AWS infrastructure in locations with less space.
Finally, Jassy discussed the company's hardware devices for the disconnected edge (in the AWS Snow family) and offerings that can enable the 5G edge. He pointed to last year's AWS Wavelength announcement, which "extends AWS infrastructure to the 5G edge". Jassy said that Vodafone will go live with this in London in early 2021.
Jassy ended with a loop back on the company's message of invention. He said, "In my opinion, companies that aren't already reinventing themselves in some meaningful way are unwinding – whether they realise it or not. They good news, though, is that invention and reinvention is very doable if you're intentional and focused on it. And we'll be here every step of the way to help you do it."