Now is the time to take action and provide your customers with Invosys' enhanced Microsoft Teams integration, a product which makes the complex simple.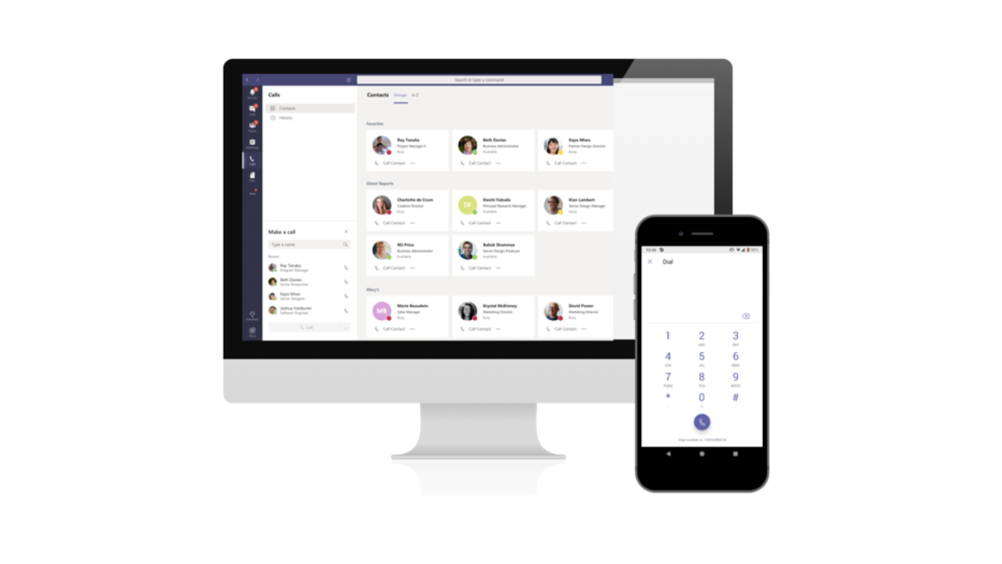 As times shift, it is clear that platforms such as Microsoft Teams, are not only dominating the telecommunications market but are becoming the effortless option for the majority business' communication. This is due to the ease and advantages that these platforms offer, alongside the full telephony of the basic phone system, there is many extra, beneficial functionalities including: easy group calls, chat functions, document storage and online conferencing. So, how do you compete?
Well, actually you don't. You join the working world's communication revolution. If you don't speak to your customers about their options in the adjusting telecommunications market… someone else will.
At Invosys, we are here to give resellers a boost and ensure despite the inevitable market changes, you are offering the most excellent and recent services to your customers. It goes without saying that the majority of IT resellers sell the same standard Microsoft Teams product at the same recommended retail price, but here at Invosys we want to you offer your customers more. We are a futuristic company whose services are unmatched and our enhancement on the Microsoft Teams platform makes the product priceless.
Invosys ensures that our product services are quick, simple and hassle free.
We pride ourselves on fantastic customer service and the fast nature of our service set up, keeping the Microsoft Teams product our focus at heart. We are a small company making a big impact on the telecommunications market. At Invosys, you can place your product order with us, we will process it, and we can have your chosen services live and billing by that very afternoon. Furthermore, we will provide around the clock support for you and all your customers through Invosys 24/7 support.
This a truly unique offering to the telecoms industry as it gives our resellers the ability to outsource their technical support calls to a team outside of their own organisation. This then helps providers deal with peak times, call overflows, disasters and any other reason why your own technical support team cannot manage your call load. This completely unique service goes hand-in-hand with our Number Manager enhanced Microsoft Teams product. We pride ourselves on efficiency and we strive to deliver innovation for your communication and we want you to be able to deliver this too.
By reselling with Invosys, you can enhance your customers direct routing with Microsoft Teams. Using the advanced features of our award winning, in-house engineered portal, Number Manager, your customers will be able to route calls to and from Microsoft Teams simply and effectively. We provide a PSTN solution to your customers' Microsoft Teams organisation enabling your customers to have a sophisticated but simple to use phone system in minutes.
By offering your customers our Direct Routing solution, you are allowing them to synchronise their Teams users to be used as destinations within any of their Number Manager services. We enable calls to be sent to existing Microsoft Resource Accounts. This gives your customers' complete control of their call flows and all the other unique features Number Manager provides, whilst adding to what they already know and use within the Teams environment.
Beat the market and be the first to offer more to your customers by choosing Invosys, we are passionate about delivering innovative solutions to our resellers so they can ensure their customers can operate more effectively. Invosys has been offering feature-rich inbound and outbound telephony solutions for many years, so we are experts at moving with the market trends, so integrating with the marketing leading telecommunications product was a decision in which required little questioning. Number Manager's features truly enhance the services already standing with Microsoft Teams, and we want your customers to feel difference by routing with Invosys. Just to name a few of the features which this product alliance offers:
Call flexibility – Maintain control of which number is presented on outbound calls by choosing any number from your account

Auto import – Synchronise with your Microsoft Teams users at the click of a button so they can be used as destinations in your service

Integration – Fully integrated into Number Manager so Teams destinations benefit from the full range of Number Manager inbound and outbound features

Dynamic Teams – Blend Microsoft Teams user destinations with other targets such as mobile, hosted devices or SIP destinations for a fully diverse virtual team

Porting supported – Bring your own number ranges with you to ensure consistency with your current phone solution. You can even present your numbers pre-port easily

Secure call recording – Record your inbound and outbound calls to Teams destinations and either playback on our secure portal or sent to you for in-house management
Please do not hesitate to get in touch with us as we can advise you further on this product and we can also offer an exclusive product demo ensuring you have a better knowledge of Microsoft Teams in collaboration with Number Manager.