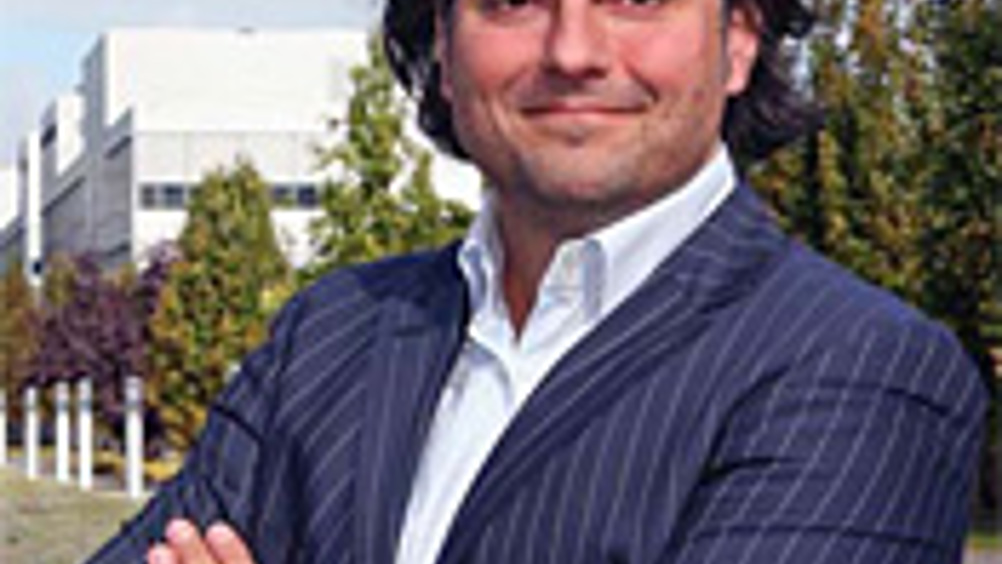 Gigaset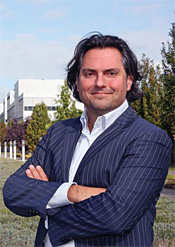 Eduard Blonk
"Gigaset stands for great design and quality made in Germany" A bold statement but well proven as Eduard Blonk, CEO of Gigaset Communications UK Limited states. In summer 2009 he took charge of Gigaset Communications in the UK taking overall responsibility as CEO for the Dutch and UK operations with the clear aim to expand both businesses.
Potential
"There is a huge market potential for us and we are committed to move the business forwards, not only in retail where we successfully established ourselves over the last couple of years, but also in the B2B sector working with our long-standing distribution partners and service providers. We are constantly aiming to improve our business and with our sales team in the UK supported by our headquarters team in Munich and our Hub Team in the Netherlands I am confident that we are moving towards reaching our ambitious targets together with our partners.
"We are one of the world's largest manufacturers of cordless phones and the clear market leader in Europe for DECT phones with an overall market share of around 30% in eleven countries. We have a global presence with 1,700 employees working in 70 countries, our headquarter is in Munich and we have our own production facility in Bocholt, north-west Germany. Since the beginning we have produced over 140 million DECT phones. Today we are a highly specialised company entirely focussed on producing telephony products.
"Previously a whole owned business of Siemens AG, Gigaset Communications had a strong influence on the development of digital cordless telephony since the beginning of the 1990s. We were one of the pioneers of the DECT standard, which has now become established around the world, along with features and functionality that our customers now take for granted, such as the integrated answering machine, SMS text messages in the fixed network and handsfree use. So we have always been at the forefront of innovation and on setting industry standards and recently we also introduced the first certified phone embodying the new CAT-iq standard, another innovation driven by the DECT Forum, where Gigaset is the current chair.
"Apart from our traditional DECT cordless phones Gigaset Communications is also a leader in cordless IP telephony and IP services on user-friendly hybrid phones with our current A580IP, C475IP and S685IP models, which can be used both over the fixed network and via a LAN connection."
Own factory to ensure quality
Our commitment to quality is reflected in the complete life cycle of our product portfolio which starts with our own R&D and is followed by our factory in Bocholt with its stringent quality and environmental standards. In 2009 the Gigaset production site was awarded the distinction 'Factory of the Year' by the German business publication "Produktion" and the management consultants A.T. Kearney in the category 'Outstanding Change Management.'
The environmental aspect has already been an integral part of our company philosophy for a long time and therefore we were among the first to not only implement a certified excellent environmental management system in our factory but also source the materials responsibly. We use recyclable materials including components and packaging materials.
As we produce our Gigaset products in Germany we have reduced transport routes and with that a reduced Carbon footprint because there is no need for shipping the products from the Far East.
Green innovations
In 2008 we equipped all our phones with new switch mode power supplies. These use up to 60% less energy than standard power supplies. The implementation of our Eco mode plus was yet another way to reduce energy consumption. If this mode is enabled, the transmitting power switches off completely and depending how far the handset is from the base adjusts its transmitting power which can reduce energy consumption up to 80%.
We are very pleased with our current portfolio of cordless phones which traditionally was more aimed at residential use rather than business. However, with our hybrid phones and mid range and high end phones, which include a vast range of features and designs, Gigasets are being purchased increasingly for office use.
Many of our phones are regularly awarded prizes for their timeless and elegant design, including the iF design award and the red dot award (like the SL785, C595 and SL400A).
We have a very versatile range starting with very basic A-Class phones for easy to use and simple telephony to high end products like the SL785 and SL400A, which both have a real metal housing, TFT high-res colour displays and Bluetooth© as well as Mini USB connection to synchronise your phone directory with your Outlook contacts, photos and mp3-ringtones on your PC or Mac.
All this is also echoed in the product reviews carried out by the trade and business press and the daily newspapers across Europe as well as here in the UK. One of our great recent successes is our regular good performance in Which? Magazine where we have been one of the top tested manufacturers in 2009 and in 2010 we have received Which? Magazine's Best Buy accolade for the SL785 among others.
Mix and Match
All our handsets can be fully registered to any of our base stations including our hybrid phones, so you can basically pick and mix products as you like as they are all compatible with each other, even among the different generations. For example, if you have a standalone base Gigaset like the SL400A, you can pick additional handsets as you like. Hide the base station in a cupboard near the phone line and place the designer handset SL400H on your home office desk or in the living room, a rugged E49H in the kitchen (so no worries about splashing water or taking it outside when you do your gardening) and a couple of C59Hs in the bedroom or the kid's room.
Interoperability and consistent menu structure in our phones are only one of the reasons for the Gigasets' ease of use and user friendliness.
Clearly, our traditional market was the consumer, with approximately 70% of our business in the retail sector. However, we are now also focussing towards the business sector, and are targeting the SoHo user, SMBs and SMEs, not only with the current DECT and hybrid products, but also from Q4 of this year, with a much more business-focussed product portfolio which will include products such as the DX800A All-in-one. This product is a desktop phone, combining a high end corded telephone, DECT, PSTN/ISDN, Bluetooth and of course IP telephony in high definition. The DX800 All-in-on is basically a small system-in-a-box. Now small companies can prepare themselves for the future. The system grows with you and the future technologies. Its now possible to combine office and home numbers in one system, but treat them separately. Time controlled answering machines, seven users and four SIP calls at the same time make your personal and business communication a pleasure for anyone's ears.
Sure, it is a very competitive market out there but our strength is that we specialise in the production of telephones and our partners know that with Gigaset they have a product which not only looks, operates and sounds great but is also well made.
For years we have been a valued partner in Europe due to our solid margin offers and the quality standards which are not least reflected in general low return rates.
You will hear from us
Our vision for the next 12 months and beyond is very clear. We will continue to strengthen our position in the UK market as a high quality phone supplier, we will continue to develop and widen the Gigaset product portfolio, we will strengthen our existing partner relationships and we will bring on new partners to increase our presence in the classic retail market and B2B sector to make Gigasets more widely available throughout all our sales channels.
Apart from that we are looking forward to releasing an announcement within the next few months about entering the growing B2B IP market with specific solutions as we are not only experts in cordless telephony but we also understand the communication needs of the people behind their business – so watch this space…