Let the music play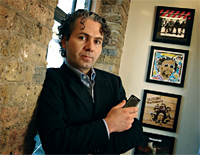 Rob Lewis, Omnifone
Music is rapidly moving from a 'nice to have' to a 'must have' feature on the mobile. Previously, customers would have downloaded and stored music onto their laptop. However, the distinction between mobile and laptop is disappearing as the mobile phone truly becomes an on the go multimedia device and as a result, the popularity of mobile music has soared. Here, Heather McLean looks at how mobile music is tuning up for the long haul.
The mobile music industry has advanced significantly over the last few years. Handsets offer better sound quality and significantly greater storage. Battery life is longer and consumers are now viewing their mobile phone as their portable music player of choice.
Andrew Fisher, CEO at Shazam, comments: "Traditionally, ringtones dominated the mobile music space. Now, you can discover new music using your mobile, purchase singles and albums, access exclusive content and even purchase tickets for concerts. Music labels, operators and content providers are now seeing a genuine potential for significant revenue streams and are looking to capitalise on this," he says.
Step back in time (Kylie)
Despite early mobile music-capable devices hitting the market, delivering full track downloads over the mobile network was at first unfeasible, due to slow 2G and 2.5G networks and the prohibitive cost of data delivery, Rob Lewis, CEO at Omnifone, comments. "In order to deliver rich media services such as video and music, mobile network operators invested billions of dollars in 3G and HSDPA network licenses and infrastructure. Yet these services mirror traditional online music stores focusing on the a la carte music consumption model.
"Simply put, a la carte mobile music services have not been profitable for operators," he states. "Operators have used music services as a way to differentiate their service offerings rather than as a source of revenue."
Things are hotting up in the market, Lewis warns: "However, handset manufactures have started to move into the space, providing their own mobile music services, which are fully integrated into the handset's user experience in a similar way to iPhone; creating a battle for ownership of the consumer's music experience on mobile."
Music built into the mobile device is the latest trend in the mobile music space, Lewis comments. Omnifone introduced its award winning subscription based unlimited music download service, MusicStation, in February 2007. Since then, one partner operator's annualised MusicStation revenues exceeding its established a la carte service within nine weeks. In the UK, MusicStation is now the most popular subscription based unlimited download service, attracting more subscribers than services like Napster in just seven months.
Lewis explains: "Unlimited mobile music services are the most recent trend. By offering unlimited music downloads across a wide range of mobiles, an opportunity is created to give the mass market the ability to download, play and share music direct to a wide range of devices, wherever that consumer is."
Christine Binns, research analyst at Screen Digest, agrees: "In the UK, the majority of mobile music services are a la carte, with 70% of revenues coming from such download services. Subscription, which has been particularly successful in Asia Pacific, are slowly being introduced, but with consumers accustomed to sideloading music from PC to mobile, they are proving reluctant to pay for such services.
"The recent bundling of music with voice tariffs, such as Omnifone's MusicStation with Vodafone in the UK, and the announcement of Nokia's Comes With Music, unlimited music bundled into the handset cost, go some way towards encouraging users to use over the air downloads; including music within a bundle makes it appear free to the consumer," she comments.
What's going on (Marvin Gaye)
Fisher's Shazam was the first service to enable customers to identify music playing wherever they are. Originally the business used IVR and SMS to identify music, and now it focuses on embedded clients that allow customers a much richer, more visual experience. He comments on where it is all going: "Look at the deals that operators and handset manufacturers are signing, for instance O2 and Sony BMG and Nokia and Universal Music, and you will see the relationship between record labels and the phone industry is becoming more closely intertwined.
"We have moved a long way from the single track or album, and the music industry is now about the artist as a franchise," Fisher continues. "We're already seeing artists offering exclusive content to certain mobile subscribers and this is only set to grow. It's all about creating exclusivity and offering customers what they can't get elsewhere."
Mobile operators hold very strong relationships with their customer base, which presents the opportunity to match the wants and needs of the customer and take advantage of opportunities in the music arena, says Matt Ward, head of music at O2. He states that the mobile music space is changing rapidly, and along with operators and record labels partnering, there are also really strong content and application providers presenting opportunities.
Ward comments on O2's latest developments: "We recently announced the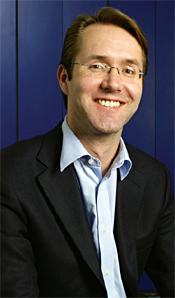 Andrew Fisher, Shazam
launch of MyPlay, the first operatorsupported artist-led mobile music store, with Sony BMG. Via our partnerships with Sony BMG, Napster Mobile on O2 Active and iTunes on the iPhone we are able to offer our customers the very best choice of music services in the market."
Orange recently launched its weekly online music round up called, The Music Show, in June Orange partnered with RockCorps, a pro social production company, to encourage people to give four hours of their time to the local community in return for a ticket to a concert at the Royal Albert Hall in September, and Orange also announced the second series of unsignedAct, which will be returning to Channel 4 supported by Sony Ericsson.
Richard Dorman, senior marketing manager for the UK and Ireland at Sony Ericsson, comments on Sony Ericsson's successes: "Since the launch of PlayNow in 2004, we have seen a sharp growth in mobile music sales with over 200 million downloads globally, per year."
He continues: "Music via download is a revenue stream, but also a differentiator. It is about choice for the consumer. We recently launched a W910 variant handset with Carphone Warehouse with Def Jam content on the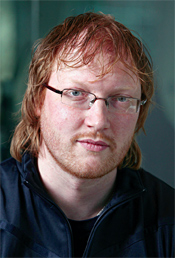 Andrew Fisher, Shazam
handset. The results in terms of sales were really strong, purely because the music gave us something to say at retail and create a really strong point of difference."
Everybody's changing (Keane)
Today's music industry is experiencing rapid change, with labels embarking on new licensing and revenue models to tackle music piracy. Currently, according the IFPI, for every track downloaded legally, 20 are downloaded illegally through P2P file sharing networks online, says Lewis.
Lewis states: "The strongest indicators for growth forecasts in the mobile music market focus on subscription. Revenues from subscription based unlimited download services, such as MusicStation by Omnifone, are set to expand, with Juniper Research (2008) predicting that global revenues from subscription based mobile music services are due to hit $3.3 billion by 2012, exceeding revenues from a la carte services, worth $2.8 billion.
"In Western Europe, Screen Digest (2008) predicts that subscription services will grow rapidly, accounting for 15.6% of mobile music revenues by 2012 representing a 15% increase from 2007 compared to a la carte full track revenues, which will account for 19% of total mobile music revenues, representing an increase of just 1.2% from 2007," Lewis adds.
Richard Wheeler, head of music partnerships at Orange, states that the mobile music market is growing so rapidly that Orange is seeing new download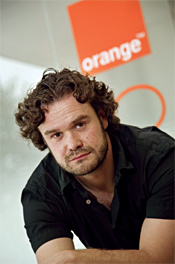 Richard Wheeler, Orange
records being set almost every month in the UK. From 2006 to 2007, Orange UK's mobile music downloads doubled, and from 2007 to 2008 they increased by a further 50%, he claims. "In terms of figures, we have sales of over 250,000 single music track downloads each month, according to the UK Orange Digital Media Index," he adds.
In 2007, the global revenue of the music industry was almost $3 billion, according to Frost & Sullivan and IFPI. Saverio Romeo, research analyst for mobile and wireless communications in Europe at Frost & Sullivan, says 15% of this figure came from digital music, and 12% of that revenue from digital music came from mobile music. He comments: "Looking at single digital music markets, the top five are the USA, Japan, the UK, South Korea and Germany. If we split the digital music sales between online and mobile, there are some interesting patterns. Japan definitely goes mobile with 91% mobile. In the UK the balance is 71% online and 29% mobile. Another surprise is China, with 73% mobile and 27% online.
Brick by brick (Iggy Pop)
In Europe, the mobile industry has reached maturity with mobile penetration over 100% almost everywhere, says Romeo. He says that with voice and messaging services mainly offered through flat rates at a low price due to strong competition, revenues from traditional mobile services are not as impressive as they were in the past. "The industry needs new flows of revenues," he states. "Mobile content is one of those. Within mobile content, mobile music seems to be the most promising option, alongside videos.
Despite a decrease in handset sales in Q2 2008, the percentage of handsets that are music enabled is rising, according to Screen Digest. Nokia and Sony Ericsson sold over 220 million music enabled handsets in 2007, an increase of 90 million from 2006.
Binns states Screen Digest's figures show that globally, the mobile music market (defined by Screen Digest as over the air downloads; sideloading stores such as iTunes and Nokia Music count as digital by the research firm so are not included in data,) is steadily rising to reach Euro 3.2 billion by 2012, a 100% increase from 2007. The market is dominated by Asia Pacific, which Screen Digest forecasts to account for approximately 60% of the mobile music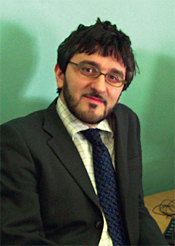 Saverio Romeo, Frost & Sullivan
revenues by 2012.
She continues that the UK represented 4% of global mobile music revenues in 2007, a figure set to rise to 7% by 2012. This is as a result of a revenue growth of 240% from 2007 to 2012 due to the introduction of more appealing full track services with new business models, such as subscription and bundling packages.
Binns says: "The end user wants music on their handset. Although mobile music services are yet to be effectively monetised, they can be used as traction to a particular device or service. Mobile phone and service dealers can use this to their advantage to drive customers to their store.
"The problem that currently faces Western markets is that although mobile users want music, they are not paying for it," she concludes. "Bundling music services with other content services or voice tariffs could encourage initial uptake. However, improved user experience such as search, interface design, speed, and cost is essential for customer retention."
Staying power (Barry White)
Fisher states: "It's my opinion that music will be a ubiquitous feature on all mobile handsets in the future. We believe that Shazam will be on a quarter of all mobile phones, around 250 million handsets, by the end of 2009. The industry looks set to flourish, with a recent Gartner report predicting that consumer spending on mobile music will surpass $32 billion by 2010."
Going forward, Orange is looking to adfunded mobile music: "Orange is committed to providing the best possible music services to our customers," explains Wheeler. "We will be looking at ad-funded music services and are committed to launching an MP3 music store in the future."
Lewis sums up with his thoughts on unlimited mobile music: "We are on the brink of a mobile music revolution; consumers will come to expect unlimited music downloads as part of their mobile experience. When faced with a choice between a handset that includes free unlimited music downloads and one that does not, it is highly likely that consumers will choose the music mobile. It will be imperative for dealers to fully understand the mobile music services on offer and to stock the handsets and price plans that provide these services, if they are to remain competitive in delivering what the consumer wants."
What is key to mobile music's future is the younger generations of mobile users that understand what content is, how it works and how they can download music, Dorman explains. "That knowledge barrier was a problem in the early days of our Walkman handsets, but now we now have a user base that totally understand the proposition. This is vital to growing the market and the proliferation of music on the move," he says.
While Ward says: "Ultimately, we are moving towards a world where customers will be able to consume music wherever they want and in whatever way they want, be it a la carte, unlimited or purely through social-led playlisting and discovery."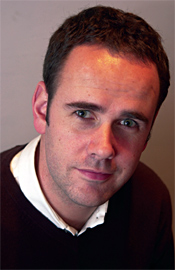 Richard Dorman, Sony Ericsson