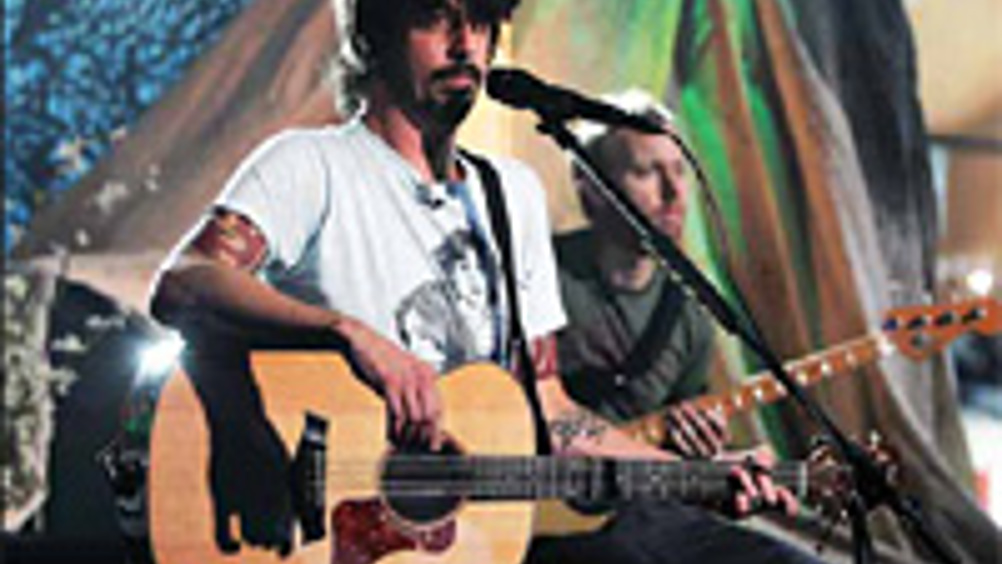 Music to the Ears!
Wireless LAN Source provided IP Telephony for everyone from the Foo Fighters to West Yorkshire Police at Leeds Music Festival

Comms Business Magazine examines a niche market that reseller Wireless LAN Source has made their own.
Wireless LAN Source was founded in 2003 as an online store specialising in the supply of specialist wireless LAN antenna and cable equipment and since that time has grown to the extent that it has recently moved to a new 3000sq ft office in Welshpool, a small market town in Mid-Wales. Today the company is at the forefront of global wireless technology, be it for simple single-room solutions right through to large business and government owned sites needing a more complex and overarching solution that is delivered at competitive prices.
Company founder and Managing Director Jeremy Rollinson had realised
there was a gap for a specialist supplier in the wireless marketplace. Previously Jeremy had worked for Total Network Solutions (Now BT TNS) as a product specialist focused on emerging technologies such as IP Telephony and Wireless.
In the last 12 months Wireless LAN Source has established an exciting niche market for his company in the supply of communications solutions to the growing number of music festivals filling up the summer calendar, not just in the UK but as far away as Australia.
Jeremy Rollinson, "We started off on a small scale in 2006 at Leeds Festival where we managed their internet connectivity but in early 2007 provided hosted IP telephony services to Big Day Out, the touring music festival in Australia working with local suppliers. This was a proving ground for what we wanted to do in the UK. We thought 'if we can do it 10,000 miles away we can surely do it on our own doorstep'."
In the UK Rollinson had to overcome the fact that most festival organisers traditionally turned to BT when it came to their communications setup.
"BT tends to deliver what they want to deliver whereas we can sit down with event organisers and say 'how do you want your communications to work?' Most people think that because an event such as a musical festival is only on for three days that is the only time you need the comms in place. The reality is far different and for many of the bigger festivals the production team is in situ for 4-6 weeks. From the day they get there to the day they leave they expect all the functionality you and I would want in our office, from internet access to business-class telephony, to be available to them. Taking Leeds festival again, that is a three-day event with more than 80,000 people attending. It's a huge logistical exercise looking after their safety and well being during that time.
"In the past BT had run in temporary lines to serve these events but their solutions were not that flexible. We introduced a means of linking up all the various parts of the festival sites delivering connectivity through a mixture of wireless and wired service, but mainly wireless. We used a range of equipment and services to achieve this such as the Repeatit range of solutions for Fixed Broadband Wireless Access."
Rollinson had an historical association with VoIP provider Pipecentric so it was to them that he turned to when it came to telephony provision
"They have one of the best platforms available and worked very closely with us on speeding up the verification process for the Linksys SPA range of handsets we had decided to deploy. Linksys provide a good balance of cost and functionality. For broadband we have a reseller agreement with Murphx and had a redundancy solution in place via Pipecentric which uses the Griffin Internet broadband solution."
Typical set up:
"For a typical festival, if there is such a thing, we would install around eight broadband circuits; four for voice and four for data connecting back to the Pipecentric BroadSoft IP telephony platform. For distribution around a site we would install a wireless mast between 60-110 feet high with repeater equipment to provide voice and data services around the site say to backstage or artist areas. We have installed phones for everyone from the Foo Fighters to West Yorkshire Police.
"Festivals have by their very nature a distributed communications need with the production area generally being the hub of operations and other functions being located in portacabins around the site. We use 5 GHz wireless links to these cabins and present Ethernet inside for users. A power over Ethernet switch is provided as well as Linksys phones on the desktop - these have a Cat5 socket out the back that can be used if required. WiFi is also provided for laptops.
"In essence we are taking a fully specified, multi-service Enterprise network and putting it in a field. In Leeds we provided around 60 endpoints, at Oxegen in Ireland around 90 phones plus WiFi, Glastonbury approximately 170 phones.
"It's a high pressure environment – as soon as the power and lights go on we are expected to get the telephony and Internet connectivity running immediately – some days we were working 20 hours or more.
"We are very familiar with the Pipecentric VoIP platform and consider it to be one of the most stable and reliable on the market. Not only do Pipecentric provide a proven solution which interoperates with our wireless solution seamlessly– which we have deployed in very challenging and high profile sites where any problem would be instantly visible but the range of features is constantly being added to.
"We have worked extremely closely with Pipecentric this year and they have been fantastic in their support of ourselves and our clients – we seem to work very well as a team and together deliver a really tight solution for our customers."
2007 Events Schedule
The following festivals and events were supplied by Wireless LAN Source in 2007:
Isle of Wight
Glastonbury
T in the Park
Oxegen
Big Chill
V Chelmsford
V Stafford
Reading
Leeds
Connect at Inverary Castle
Red Hot Chili Peppers Hampden Park
T on the Fringe