Adoption of SD-WAN is on the rise, with channel companies involved in projects throughout the UK. Comms Business examines what opportunities remain.

SD-WAN, or software-defined wide area network, solutions have become an increasingly powerful tool in a reseller's kit bag, opening the door to a new world of connectivity choice in a rapidly changing world.
According to Dan Davies, CTO at Maintel, SD-WAN can play a pivotal role in facilitating the evolving nature of work. He said, "Many companies are adopting a hybrid approach, where employees are working both remotely and in the office. Therefore, employees will need to access resources securely from wherever they are.
"Organisations should consider leveraging secure SD-WAN to optimise their connectivity experience, ensuring that employees have a reliable, secure connection that allows them to be as productive at home as they are in the office. SD-WAN provides businesses with intelligence around the routing of traffic and the ability to use these connections to augment, or backup their connectivity. As hybrid working is set to stay for the long-term, CTOs must take action now to ensure their employees are equipped for the shift.
"SD-WAN also provides the foundation to take advantage of the latest 5G technology as it rolls out. For example, JD Sports partnered with Maintel to futureproof its store network. By leveraging SD-WAN, JD Sports is able to personalise its store offerings to help deliver real instore theatre for their customers and to provide omnichannel solutions where the brick-and-mortar stores reflect the online experience. JD Sports will be able to install the latest IT technology to keep up to date with the latest retail trends."
In demand
Glenn Akester, lead network solutions architect, Node4 said SD-WAN is in demand for a number of reasons. "Cost savings were a big driver for early adoption, after the North American market saw benefits of that kind prior to its introduction on UK shores. While this may be partly true, scratching below the surface reveals the scope for true flexibility and automation, as well as giving the ability to control and integrate a network with other services from one management platform. This presents an exciting opportunity for business to rapidly scale, reduce time spent deploying new sites and networks, and leverage the cost savings that often brings.
"SD-WAN by design is eradicating centralised network bottlenecks by providing distributed internet access to branch sites. When combined with private connections, such as MPLS, this can also continue to support remaining on-premise services or where more guaranteed connectivity is required."
He added, "SD-WAN detects applications and prioritises traffic flow automatically, according to business needs, so that everybody has a better experience, whether they're on an HD video call with the team or simply accessing files across the network. Businesses can send business data across multiple aggregated connections, and in the event of a circuit failure, 'application intelligence' will ensure that key applications have priority on the remaining lines."
For Sen Chandaka, vendor alliance development manager for Europe at Nuvias, SD-WANs are critical to the modern enterprise. He said, "Additionally, digital transformation has been accelerated by the Covid 19 pandemic. The rise of disruptive enabler technologies such large-scale distributed applications and predictive machine learning algorithms place new demands on the availability, latency and elasticity of data access which can be challenging to traditional WAN deployments and architecture.
"The exponentially increasing pace of cloud computing adoption exacerbates this challenge, with around 27.5 per cent of CIOs stating that cloud migrations are now essential for business survival."
Actively selects
Martin Saunders, product director at Highlight (pictured below) said SD-WAN has the potential to deliver benefits that are above and beyond anything being used today. "If done properly, the main benefit is its ability to make more efficient use of a network, particularly when running in a hybrid mode with multiple connections to different technologies. SD-WAN makes very efficient use of these connections because it actively selects the best network for an application and the most suitable route for the data being sent or received. The result is better application performance and availability.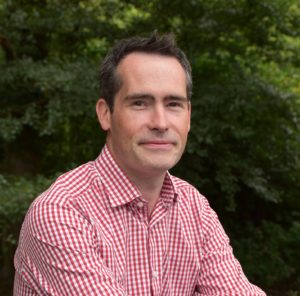 "SD-WAN is particularly attractive to enterprise customers who are looking for simplicity, and want to concentrate on their business, not technology. They want to make their network perform the best it can for their important applications, at the best price and least hassle. A key benefit is it simplifies security. Since everything is centrally managed, the user has greater control over an estate and can push out updates quickly and simply."
He noted that demand is being driven by the hype, with vendors making significant investments into advertising and analyst houses "pushing the benefits".
Saunders added, "My advice is to be curious but cautious about SD-WAN. There is a significant amount of 'SD-WAN washing' by some technology vendors, where they put a veneer of SD-WAN over their existing tools but deliver very little substance."
Mark Hardy, director of Northern Europe, cloud networking group at Citrix, believes SD-WAN has become an increasingly popular choice due to the demand for more agile network infrastructures "that provide a secure connection to cloud applications, while maintaining a high standard of performance".
"These qualities are particularly important given the rise in cyber-attacks, an increasingly competitive landscape, budget cuts in IT departments and of course the shift to remote work due to Covid-19.
"As hybrid roles become more commonplace, employers need to give remote employees secure access to corporate networks, without compromising performance. SD-WAN solutions work to relieve pressures on networks including bandwidth constraints, bottlenecks, latency and security concerns. In this way, they can provide a more extensive remote workforce with a more consistent, reliable and secure working experience. We see SD-WAN very much as a technology for the future and believe it will enable digital transformation efforts across many organisations in the coming months and years ahead."
Sweet spots
Citrix's Hardy said almost all sectors would be suitable for the adoption of SD-WAN. "Any business across any sector that wants to be more agile, support digital transformation efforts and enhance security when using cloud applications should consider the technology.
"Many businesses now operate within a cloud environment, and these include but are not limited to the financial sector, healthcare, production and manufacturing, supply-chain based industries and retail.
"These industries collect, store and run off vast amounts of data in the cloud, and they must make sure this is secure. Due to the adoption of remote learning, the education sector would also find great opportunity from utilising SD-WAN software."
Mark Howarth, senior partner service manager at Zen Partner, said the needs of the customer are vital. "We're working with a number of customers from a range of sectors on SD-WAN implementations. We are talking with financial and manufacturing businesses through to logistics and [food and beverage] sectors. The approach we take is not necessarily about the sector you're operating in, but more about the specific needs of your organisation and establishing if an SD-WAN solution could be the right choice for your business."
Game changer
Tim Mercer, CEO of cloud technology specialist Vapour, pointed out that SD-WAN isn't new. "The technology has actually been around for many years. However, it's now gaining real traction because the value it can bring to organisations of all shapes and sizes, is becoming increasingly clear. I see it being a game changer – almost irrespective of sector – in organisations with a cloud-first tech strategy. It will open up a whole new world of speed and agility for such businesses – which so many fast paced and/or growing firms need right now.
"However, more important than that, is the fact that security lies at its heart. It's not a bolt-on or an afterthought – it's integral. And because hybrid working is here to stay, this has never been so critical.
"Delivering high performance, affordable SD-WAN solutions is not something everyone can do. For that reason, when a customer complains of connectivity speeds, for instance, the easier option is for providers to simply recommend more bandwidth. And, because the cost of circuits is falling, the customer is unlikely to push back. However, for many businesses, traditional networks will no longer be fit for purpose. We're not all in the same network anymore – it's not a case of routing all the traffic into one place, through a huge firewall, and back out.
"The security lies in the architecture of the hardware and software. This is where I think the real potential lies. As the market becomes familiar with what SD-WAN can do, and the imperative network and endpoint security benefits it delivers, customers will start pushing back on providers that simply suggest more bandwidth – that's merely a sticking plaster."
Dale Smith, head of channels for the UK and Ireland at Juniper Networks, said there appears to be a real opportunity for businesses in the retail and hospitality sectors. "Businesses in these sectors have recently been hit by a series of security attacks, which has raised general awareness of the potential vulnerabilities in their network. SD-WAN allows businesses to roll-out security policies instantly over a massive number of sites, to ensure they're protected.
"That said, SD-WAN presents a huge opportunity for organisations across every sector. Any business with a distributed workforce seeking to reconsolidate and change its office-first strategy will benefit from this technology. SD-WAN allows them to ensure that their networks are strong, secure, and accessible. The organisations can benefit of the multiple connectivity options available in each location to increase availability and reduce overall costs.
Coming alive
Especially in the last three years, SD-WAN has proven to be the preferred solution for connecting businesses that operate across multiple sites and countries, according to Sachin Vaish, founder and managing director, Vaioni. He said, "While MPLS may seem the most appropriate technology for multi-site connectivity, SD-WAN offers far more network control for end-users, delivering insight and intelligence across the network via simplified orchestration. Reducing that reliance on MPLS means businesses can cut costs without sacrificing network performance and scale far quicker.
"What differentiates SD-WAN is the intelligence it delivers over 'dumb' connections, offering greater insight and control over any technology, network, and distance, as well as the ability to dynamically re-route traffic in the case of an outage, ensuring consistent access at the fastest possible speeds.
"Previously, the telecoms industry has struggled to provide customers this intelligence at the network layer and SD-WAN offers this and more. It's like when UTM became popular – users found a new level of 'out of the box' functionality spanning across all systems, rather than individual components and systems operating in separate silos."
Similarly, Mark Charlesworth, director of products, Neos Networks believes no matter what sector, SD-WAN is a great choice for modern businesses. He said, "Services can be changed and deployed quickly, and the benefits to the network are immediate. Whether the business is a large critical national infrastructure provider, public sector organisation or a financial institution, SD-WAN offers a fully flexible, highly visible network solution, perfect to meet the business demands of today. Not only is SD-WAN easy to deploy, it also offers high levels of security to benefit even the most sensitive of organisations.
"The technology can house encrypted tunnels between every site in the network, offering the same level of protection that a VPN would, without the time and effort that typically comes with VPN installation. These in-built encryption capabilities ensure that only authorised users can access the network. In fact, SD-WAN adopters are nearly a third less likely to feel frustrated with their network security than those who use alternative solutions."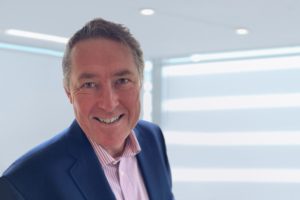 Essentially, every single industry sector has been impacted by the current pandemic, and would, therefore, need and benefit from SD-WAN solutions. Paul Farrelly, chief digital officer at Digital Space (pictured right), said, "The retail, leisure and hospitality sectors have experienced the greatest impact, not only in forced closures, but in how they have had to adapt their operations to safely re-open their doors.
"The network has always been perceived as a 'by-product' to the retail, leisure and hospitality industry, in either powering electronic point of sale solutions or providing Wi-Fi to retain customer loyalty. However, since the outbreak of Covid-19, technology and connectivity solutions have never been so important to those industries, where SD-WAN is now powering handheld 'order and pay' devices to enable hotels, bars, and restaurants to adhere to government demands of table service, whilst helping to improve customer experience for the retail industry.
"In addition, as SD-WAN streamlines high data usage and stops applications from overwhelming the network, it has and will continue to play a pivotal role within the healthcare sector – not only in powering initial, virtual GP appointments but also in providing medical professionals with secure 24/7 access to vital data for improved patient outcomes."
John Atchison, head of global partner marketing at Versa Networks agreed all sectors of the industry can benefit from SD-WAN. "Retail as an industry is evolving as more and more connected devices and applications are making their way into bricks-and-mortar environments to become future proof in the age of e-commerce and mobility.
"This trend will intensify in the next decade as workloads and customer analytics move to the cloud and the proliferation of the internet of things and low-code rapid application development. As another example, financial service customers expect fast and 24/7 access, whether it is to make deposits, avail loans, claim insurance, make investments, or check balances on accounts.
"New technological advancements are also providing the healthcare sector with new and innovative ways to manage and deliver patient services while improving profitability."
Crossing borders
Vaioni's Vaish said that SD-WAN solutions, and their capabilities, show their true worth in organisations with international operations. He explained, "MPLS can be prohibitively expensive. The technology used, and SLAs offered vary from country to country, leading to far higher complexity. Here, SD-WAN can be a genuine game-changer, in terms of performance, network intelligence and cost in any sector with multiple offices."
Looking to the future, he added, "We will see more businesses adopting SD-WAN, especially given the lower cost of entry and its benefits for remote workers extending the network edge.
"As businesses embrace new ways of working, SD-WAN will support the management of a more disparate workforce, as we move from 100 employees in a single office to 100 employees in 100 different locations – all with potentially different connectivity technologies. Further development in analytics capabilities and machine learning will give IT managers even broader, more accurate insights and enable administrators the ability to react in real-time.
"SD-WAN was arguably designed for the international and large in-country deployments, such as the Americas due to its complex and expensive bandwidth costs.
"But it still provides the refined insights and intelligence that many UK businesses are in dire need of. As well as the ability to equip more disparate and complex workforces with the tools they need for the remote working world, alongside better decision-making in near real-time, a higher level of reliability, control and consistent, high-performance network capabilities."
What's next?
Oliver Wallington, head of business development at Wireless Logic, pointed to the emergence of SASE, or secure access service edge, as one area of opportunity. He said, "It has converged WAN and network security services into a single, cloud-delivered service model, offering a more streamlined vendor selection process for IT professionals. This is delivered on the edge of the network as a service based on the identity of the entity, real-time context, enterprise security and continuous risk assessment throughout the sessions.
"These entities relate to people, office branches, devices, applications, IoT systems and edge computing locations. SASE will also allow for companies to be better positioned to integrate and offer newer technologies such as 5G, IoT and Edge Computing. In fact, Gartner predicts that by 2024, at least 40 per cent of businesses will have strategies in place to adopt SASE, up from less than 1 per cent at the end of 2018." Wallington added we can also expect to see mobile SD-WAN continuing to expand with 4G LTE commercialisation.
Chris Christou, director of engineering, Exponential-e is also excited about future developments. "Many businesses are turning to SD-WAN architectures to meet the demands of a modern era of working. But beyond that, the convergence of networking functionality from SD-WAN with the shift of security to the cloud - via SASE architectures – paves a path for many organisations to take another step on their digital transformation journey.
"Advances in cellular connectivity are also allowing 5G connectivity to be paired with an SD-WAN and SASE architecture, making it easier to deliver high performance, low-latency solutions to large enterprise and campus networks."
Simon Pamplin, chief technologist for WAN edge, EMEA, at Aruba, feels innovations of the future will derive from AI-driven automation and intelligence. "We must ensure customers can embark on digital transformation with ease and find the journey to the cloud effortless.
"At Aruba, we'll be increasing our 'one click journeys' to the cloud and further developing integration with third party cloud and security providers. This means we can integrate with almost any public cloud provider or cloud security solution though our own automated orchestration capabilities and APIs."
Peter Coppens, director of IP services at Colt Technology Services, explained he expects to see more SASE and uCPE based capabilities in the future, with security at the edge and easy network management through virtual functions. He added, "The market for SD-WAN solutions, at the moment a confusing mishmash of well-established brands and little-known start-ups, can be expected to consolidate around fewer and bigger vendors, each leveraging their particular strengths. But rather than navigate all this in order to deploy their own SD-WAN, network managers can reduce complexity by adopting SD-WAN as a managed service from a network service provider."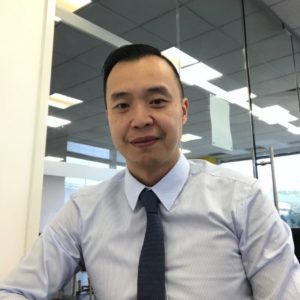 Anh Hoang, head of product and presales for WAN, storage and security, at Wavenet (pictured left), identified how SD-WAN has continually evolved since 2014, in line with the shift towards the cloud and accelerating technologies that begin to overlap the SD-WAN space.
"Leading vendors are already leveraging machine learning and will play a significant role in future evolutions of SD-WAN. What this means for the end-customer is the progression to a 'hands-off' WAN, where the network dynamically drives the workloads based on real-time conditions, boosting network utilisation, productivity and freeing up operational resource in the process.
"As coverage and availability of 5G connectivity becomes the de facto of mobile data connectivity, SD-WAN's agnostic architecture enables customers to take advantage of 5G as an alternative to fibre-based connectivity. 5G is not without its challenges or competition in the wireless arena, how about low earth orbiting satellite networks? If it's IP-based, SD-WAN can utilise this too!"