Comms Business takes a look at the growing adoption of self-service and provisioning within the channel to find out what key features make up the leading provider offers.

Online sales boomed in September in the wake of the Brexit vote in June's EU Referendum, figures from both the IMRG and the ONS suggest.
Official figures from the Office for National Statistics (ONS) suggest that UK online sales grew by 22% last month, compared to the previous year, and by 2.8% compared with the previous month, of July. That boost is well ahead of overall annual UK retail sales growth of 2.9% by value, according to the ONS Retail Sales report for September, following a 1.1% fall in average store prices. Sales volumes rose by 4.1% compared to last year. Some 15% of all retail spending took place online, said the ONS. That's up from 12.6% a year earlier.
Meanwhile, the IMRG Capgemini eRetail Sales Index reports a 16% September boost to online sales, taking ecommerce growth to 17% in the third quarter of 2016, the highest seen in any quarter since the first three months of 2014.
Whilst these figures show impressive growth for online sales they are in the main B2C transactions but to take the 'consumerisation of IT' analogy and stretch it somewhat there can be little doubt that B2B online transactions are also experiencing an uptick in terms of their availability for and use by business.
This is due in no small part to the proliferation of portals.
A self-service portal is a web based application that enables users—whether they are customers, employees, suppliers, or partners—to perform high-value transactions, from simple account updates to paying bills, managing support tickets, and more.
Besides the value of driving down service costs, self-service portals are a progressively vital element of the customer experience. Customers increasingly prefer to complete transactions themselves via the internet—whenever and wherever they want—rather than having to make a call or travel in person to a business location. And since customer experiences are crucial to achieving competitive advantage, so are self-service customer portals.
Over the last year we have had a look at quite a few channel portals and essentially we wanted to know;
How can firms realise the business value of their provisioning portals?

What does the channel want from a self-service portal?

Do ticketing systems work?

How joined up do portals need to be in order to really add value?
What we discovered was a mixed set of features and usability. The most common problem discovered was a lack of thought regarding how users would actually use them and get a benefit out of their use. In particular, and bizarrely, portals had been developed for just a single silo of applications rather than a complete portfolio. For example, you could configure a hosted telephony application but not the connectivity to actually make it work.
However, portals never stand still; suppliers and their channel partners are always coming up with new ideas that are often developed in to new features. This time last year we reviewed the Gamma portal and came up with a few ideas of our own and were chuffed to see that many had now been incorporated in to their portal.
In a nutshell the Gamma portal is now up there with the best in the channel. Today it incorporates the provisioning of a far wider range of Gamma's product portfolio – see the graphic showing the drop down services menu. Critically Gamma now incorporates billing services in their portal for resellers – again see the screenshot showing some of the services available here.

We have always said that portals need to be a holistic representation of a suppliers' products and services. There's no point having a great portal that only serves half the product portfolio, a second portal for some of the rest, a portal dedicated to billing and a phone call for the rest – if you are going to run a portal then you just need one.
It's not just for reseller ease of use but you also need 'joined-up' services because of the interaction and limitation cause and effect that individual products and services have on each other. There's no point provisioning one service that is not compatible with a second or subsequent service for example, and Gamma has this covered.
Jo Shuttleworth, Head of Service Development at Gamma, is keen to point out that their portal is highly configurable for their partners.
"From the moment you open up and logon to our portal you see a landing page that reflects your own choices and set up with a range of application widgets that lead you to completing tasks or finding information quickly. There's even a 'favourites' widget that is pre-populated with the links to the services the reseller uses most often.
Depending on your role within the reseller these widgets and features are also contextualised."
The back end of the Gamma portal is also linked to the company's new training portal, Gamma Academy. Yes, I know that is two portals but training is a separate function to provisioning services and it can be used as a stand-alone application if required. The advantage of linking, and the reason I mention it, means that the Gamma portal will determine, based on who has logged on and the products being specified, what recommended training should be undertaken and at what level for that individual. How cool is that! This is spankingly brand new and is literally just being launched to partners.
What else is new? Jo Shuttleworth says the billing home page now has a live chat feature to help users and there is also a new Gamma Search tool. This is pretty cool too as if you enter a Gamma phone line number the tool will search their asset base and then list which services are associated with that line. Gamma will be adding mobile numbers to this shortly.
Differentiation
VanillaIP has a highly holistic approach to portals and the self-provisioning capabilities with their Uboss platform. I met with them at their East Croydon base to receive a catch-up on developments this year and a week later bumped in to them on their booth at the Broadsoft Connections 2016 event in San Antonio, Texas.
I think it was telling that Vanilla IP were there for the 13th year in a row and had taken out four team members to support their unique differentiated position as a platform operator. (Editor: We report on the Broadsoft show in our January issue)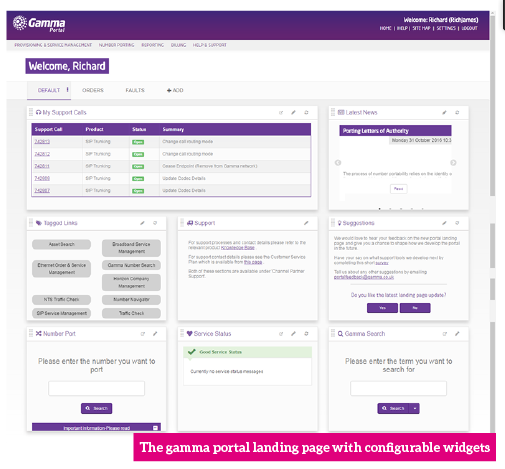 Uboss, an in-house VanillaIP development they make available for Broadsoft platform owners outside of the UK, is a single portal for Broadsoft provisioning, call recording, call centre reports, billing and analytics. It comes with an array of apps, toll fraud protection and the ability to disassemble any Broadsoft package and build them back up the way the reseller and user wants them.
Managing Director David Dadds says that the objective for Uboss is to offer a true on demand cloud experiences for users.
"Having one data base and one portal is the ultimate goal as different writers, appearances, multiple sign ins and data sets is a non-starter for most, however, there are so many interdependencies that it is hard for many suppliers to get a complete end to end provisioning solution available that users would understand.
It is important for portals to offer provisioning and billing in the same portal and for technical staff the network operation centre (NOC) tools and support areas are becoming more and more important."
New developments on Uboss include a packet analyser tool. This is a management module built into Uboss designed to manage all call traffic, users, devices and call quality issues on the network. Uboss will also alert you when customers report poor quality calls.
So for reporting and analytics Uboss is a single portal which searches call logs and recording all with rules based access. This includes billing, conference bridge usage and reporting 'heat maps' for visual indication of usage.
Around ten per cent of VanillaIP users are call centres and here Dadds showed off a comprehensive set of features and reporting.
"Broadsoft platform owners and their reseller partners can't rely solely on them for research and development. In fact, Broadsoft makes up just 30% of our service wrap. It would be fair to say that we get 5-10 new feature requests a week and at least 50% of current features are as a result of these requests. Consequently, Uboss provides our resellers with unique features and capabilities."
You can't stand still for a moment in this competitive market and Dadds confirms that with 85 developers working on new features his platform is updated on average once a week. As you would expect, all changes are tracked on the portal and supported by email to users, often with accompanying YouTube video support.
Other key features Uboss facilitates for users include real time number porting, ticketing, reseller branding, button personalisation for Polycom and Yealink phones and toll fraud prevention.
The Power of One
Carl Boraman, Commercial Director at Tollring, believes that a good portal presents the right information in the right format, and requires very little support so users can self-serve.
"This means it needs to be easy to use and easy to access from anywhere, on any device. The channel should therefore look for a portal that is browser-based with a mobile-first, desktop-second policy.
The key with portals is 'less is better'. The more functionality you can fit into one portal the better. Service providers and their resellers ideally want just one portal for provisioning customers, setting rules and then fine tuning. Wallboards, reporting and call recording should be available via a single portal without having to worry about different user names, passwords and website addresses. The more holistic and joined up the portal, the less training, less support and the less support tickets are required – and fewer support tickets save both time and money.
Also, portals need to deliver information live, in real time, particularly when dealing with fraud and credit management. Information on something that happened yesterday or two days ago, is of no use.
It's important that a portal presents information that's appropriate to the needs of the service provider, the reseller and the customer – it must deliver what each need.
The provider is not interested in whether a customer missed a call, they want to know what customers are live, what services they are using and if they can access the right information to bill customers. And if a customer is unhappy, to associate them with a support ticket.
The end customer wants a portal that allows them to do their own inventory updates. It needs to be simple and easy to do without the need for an expert or the need to run different filters and separate reports.
Self-serve is good for everyone in the food chain. It allows customers to do the key day-to-day administration themselves, and removes the need to raise a support ticket. This means they can add/remove users or create a new department/cost centre without having to contact their service provider. In the past, this activity incurred a managed service fee which some resellers may have been unable to recharge to the customer.
When customers self-serve, they raise fewer support tickets which makes them happier and more loyal. In turn, the reseller has less administration with an improved profit margin. Customers also create their own specialist administrators who become influential on whether they change vendors or not.
The reseller's client managers can then focus on looking for new opportunities with the customer rather than dealing with support issues and tickets. They can spend more valuable time looking for new business challenges that the customer may face, rather than being on the back foot."
Aled Treharne, Director of Innovation and Development at Nuvias Group company SIPHON – makes a key point when he says that self-service portals are no longer a unique selling point, but have become table stakes for service providers.
"This is partly because of a high-bar set by the cloud-based service providers selling directly to end users. These service providers offer access to their services via genuinely user-friendly interfaces that are easy on the eye. As a result, other channel players are typically playing catch up. Aside from being a key place to reinforce brand identity, the advantages of self-service portals include services varying from initial purchase through to service management as well as a range of ancillary functions.
Service providers who have their own development capability might be content with an API from their upstream solution providers. Those without would benefit from a multi-tier solution that's brandable and fully customisable, giving them access to a similar capability, but without incurring the upfront development outlay.
The deployment of voice and video services by service providers is often fraught with challenges. Regardless of the type of technology at the core of the network, pre-deployment testing is an essential step to ensure the highest quality end user experience. The fact that voice and video CPE have specific requirements, both prior to and following deployment, can make the enterprise network environment a hostile place. In fact, end users often complain that the complexity of configuring CPE is one of the major barriers to deployment. Ironically, as CPE becomes increasingly intelligent, with better integration and more features, it has also become more complex to run and maintain.
A joined up, centralised, self-service portal that realises true business value and is focused on the customer experience is one that addresses the key aspects required to successfully deploy CPE. These include pre-deployment assessment of the core network, deployment configuration and lifecycle support plus ongoing voice quality analysis."