Cirrus has completed its first external funding round, securing a multi-million-pound investment from BGF along with flexible financing from NatWest's Growth Capital Fund.
Comms Business caught up with Jason Roos (pictured above), co-founder and CEO at Cirrus, to find out more about the company's story, its ambitions ahead of the funding round and what the investment will be used for.
A gap in the market
Cirrus was founded in 2013 and provides cloud-based contact centre software. Roos explained, "Cirrus was born because I saw an opportunity with the emergence of hosted voice and voice over IP back in 2012. The platform vendors, BroadSoft specifically and all the derivatives of BroadSoft at the time, didn't have a contact centre capability."
This, Roos added, meant it was difficult for the channel to win a customer if it had a contact centre within its estate. "Often the business might have a few thousand hosted voice licenses or users then, within those few thousand, there is a contact centre of 50, 100, 200 or 500 users. It's not the bulk of the users, but that contact centre placed a requirement onto the hosted platform that [the channel] wasn't able to fulfil."
Having spotted this gap in the market, Roos developed the Cirrus offering and built its go to market strategy around the channel. However, it became clear to him that the channel was not ready for the opportunity. "The seismic shift that was going on for the channel [involved] a change in the commercial structure. Businesses that were previously selling capital expenditure contracts were now having to pivot their business models and their revenue streams to operational expenditure in the world of hosted voice. They were also having to think about the change from traditional TDM [time division multiplexing] to VoIP [voice over IP].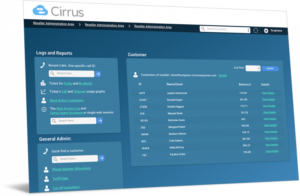 "The change that was taking place in the channel meant that we were turning up too early. Businesses weren't encountering the problem [that we'd identified] within the contact centre yet. So we set up a direct business to sustain ourselves whilst we waited for the channel opportunity to mature."
Then, in 2019 Cirrus changed to its business from direct to wholesale. Today, Roos said, "we only go to market via the channel". This shift happened due to the launch of Cirrus' relationship with Gamma. The company had built relationships with several of Gamma's platinum resellers and was already selling products alongside Gamma Horizon, so "it was a natural next progression to build a relationship directly with Gamma to fulfil a contact centre offering alongside their Horizon BroadSoft platform".
Investing in growth
Since switching to that channel-only approach, the business has grown rapidly, with clients across a broad range of sectors including finance, logistics, government, travel and retail. It became clear to Roos that the next step was to scale the business through raising the company's first round of private equity funding.
"We started to look at potential partners. We were clear on what we needed and had offers from a few private equity firms but, in the end, we chose to move forward into a process with BGF for a number of reasons. We liked their approach, and they were happy taking a minority stake whereas lots of private equity firms were looking at a majority stake. We also felt there was a very close alignment in terms of style and approach between the BGF and us. Then we also bought NatWest in to sit alongside the process because we were raising a combination of equity and debt. The team at Natwest were exceptional in terms of their approach and how they handled the transaction."
Securing this significant investment whilst retaining a majority stake in the business was an important aspect of the process for Roos and his team. He explained, "We felt that, at this point in time, it was too early to accept a majority sale of the business. So, a minority position was one of the key reasons why we accepted BGF, but we also felt that, from the very first meeting, the approach that BGF brought to the table was very supportive in terms of understanding our market, our specific product offering and the subtleties or differences between what we do versus the rest of our competitors. The flexibility that BGF evidenced through the process was one of the things that we thought set them apart from the other private equity firms.
Looking ahead
Cirrus will now use this investment to fuel continued product innovation and business growth. Roos explained there are two main ambitions here. "The first one allows us to scale – recruitment and the growth of the team will be very rapid throughout the course of 2021 and 2022. This will allow us to engage with the channel and help monetise the opportunities the channel is bringing to us at an ever-faster pace than we're working at today.
"The second aspect to it is we have a number of transformational product launches lined up for 2021. The contact centre industry is an incredible space right now – [from the] the digital-first revolution [to the] acceleration of the shift to omnichannel communications. We've got a platform already in place that we'll be building on and launching new capabilities during the course of 2021. The rate of change we saw in 2020 [is not something we] see slowing down. We've got momentum at the moment so we can build a significant leading edge over our competitors and we should be able to maintain that for the longer-term."