Hundreds of elderly and vulnerable people in self-isolation are set to receive healthcare support from the comfort of their own home, thanks to a pioneering new app.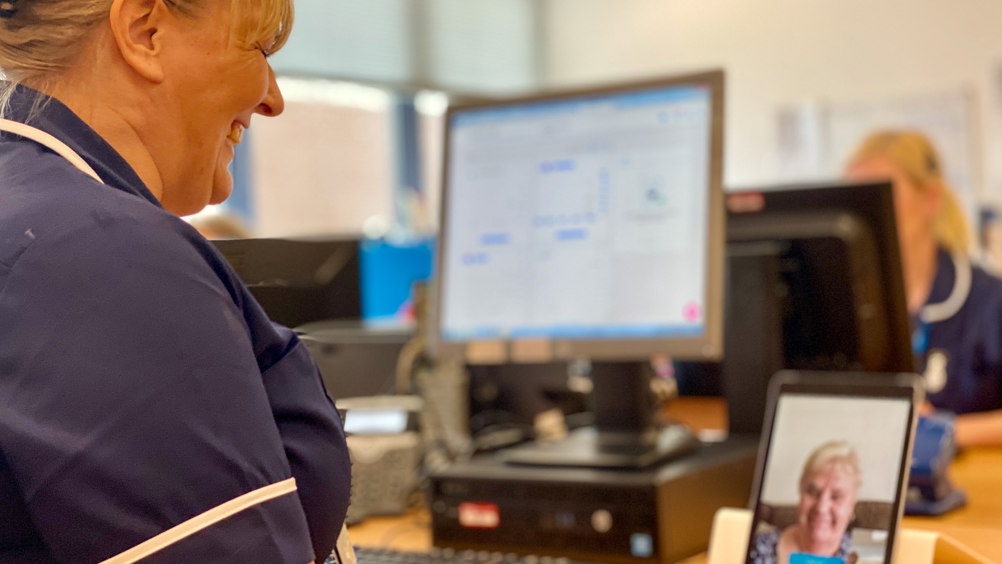 All Together Better Sunderland, a partnership that brings together a number of health and social care services in the city, initially piloted the Luscii app last month, making Sunderland the first city in the UK to trial the new technology.
Luscii, which is supported by Apple's global Apple Mobility Program, gives a range of health and social care professionals quick virtual access to patients with debilitating breathing problems so they can monitor their condition and ensure that all aspects of their care – from rehabilitation to more specialised care – allowing the patient to remain in their own home.
Luscii also allows patients to access a range of resources to help them monitor their condition under the watchful eye of health professionals and book virtual appointments that will assist them with their recovery.
All Together Better first launched the app as a pilot scheme just over a month ago, with 50 patients from its Recovery at Home Service receiving a pre-installed iPad with the Luscii software installed. However, since the UK went into lockdown due to the increasing spread of COVID-19, millions of elderly and vulnerable people have been unable to visit their local GP or hospital, providing a major challenge to healthcare operators across the globe.
This has led to the team at All Together Better expanding the offering of its Luscii platform and – after working closely with fellow Sunderland-headquartered telecoms specialist Nice Network – the team is now getting set to provide support to a further 250 patients.
Dr Martin Weatherhead, Chair of All Together Better, said: "As millions of elderly and vulnerable people across the UK are forced into lockdown and unable to leave their homes – we must do all we can to provide the best possible support to them while ensuring they remain as safe as humanly possible.
"Not only does Luscii allow us to provide them with remote healthcare support, but it also helps support our patients' general health and wellbeing, giving them the option to download a range of apps that can support them with a range of things like healthy eating and connecting with others to reduce social isolation and loneliness.
"We all have a part to play to support those most in need during such testing times and the expansion of the Luscii platform is a great example of how innovation in healthcare can help transform how we monitor and treat patients in their own homes and prevent unnecessary appointments and hospital visits."
Jamie Lee, Robert Webster and Terry Lewis from Nice Network, which is based on Pennywell Industrial Estate, worked with All Together Better to provide connectivity and unlimited data Sim cards for the devices, as well as installing Mobile Device Management (MDM) software to ensure the iPads are as secure and easy-to-use as possible.
Robert Webster, business development manager at Nice Network, said: "It fills us with great pride to be working with All Together Better on the expansion of the Luscii initiative. The increasing spread of the Coronavirus has left those with debilitating breathing problems among the most vulnerable in society and programmes like this are crucial to ensuring they get the support they need in what are incredibly challenging conditions for everyone involved in the provision of healthcare.
"Some of the patients involved in the programme are socially deprived and don't have a TV at home, never mind WiFi connectivity or a tablet, therefore we've had to work closely with the team at All Together Better to ensure each device has the connectivity required to register their devices and get them online – as well as creating simple how-to guides to help people understand how to use them effectively. It's been a real team effort by everyone involved."
All Together Better is an alliance of local health and social care services working as an integrated 'out of hospital' system. By working in a much more joined up way, it supports Sunderland residents and patients with long term illness, health problems, mental health issues and disabilities to access care as close to home as possible and live healthy, independent lives.
The Luscii initiative is a collaboration between All Together Better partners, including Sunderland Care and Support and South Tyneside and Sunderland NHS Foundation Trust, which is one of a handful of Global Digital Exemplars (GDEs) – Trusts that are spearheading digital transformation across the NHS. Sunderland City Council has also played an instrumental part in securing the pilot in Sunderland through the work it has done via the Digital Cities Challenge.