VTech today introduced new deskset products to its ErisTerminal business phones portfolio to meet demands across a spectrum of workplaces, from factories to offices and retail environments. Now, business professionals have more options of affordable, high-quality communication devices to fit their individual needs. The company introduced the new VSP716A, VSP726A and VSP736A desksets, which boast advanced session initiation protocol (SIP) features.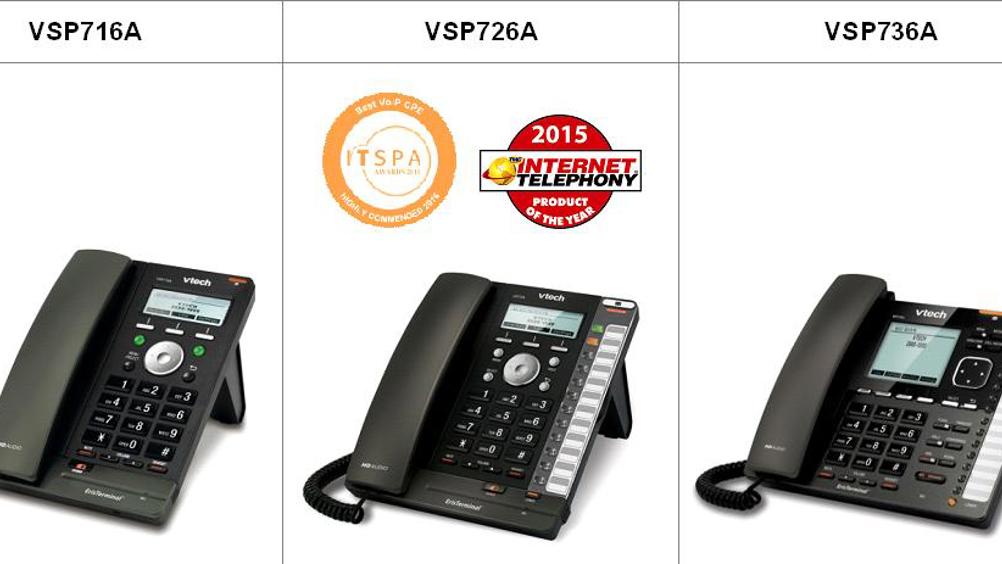 VTech's ErisTerminal family is designed to give businesses solutions that fit their size and needs. The desksets feature power over Ethernet support, dual Ethernet ports and auto-provisioning. The VSP716A is an entry-level model offering 2 SIP accounts, hands free speakerphone and corded headset support. The VSP726A provides support for up to four SIP lines/accounts, while the VSP736A allows users to manage up to six SIP lines/accounts. The devices make calling more efficient, with 16 programmable keys on the VPS736A and 12 programmable keys on the VPS726A. Both VSP726A and VSP736A have a micro SD card port, which allows users to record and save calls directly to their deskset for easy playback without the need for subscription services or extra fees.
For companies that need the ability to take phone calls throughout an office or warehouse, the VSP726A and VSP736A desksets have built-in DECT, which enables pairing to any compatible device. This allows users to easily add accessories like the VTech VSP500A DECT Cordless Headset and VSP601A DECT Handset with greater ease, for more mobility and the same high call clarity.
"As we grow the ErisTerminal portfolio, we've worked to provide devices that give businesses the flexibility and customisation they need, whether they're in an office, factory or retail environment," said Charles Williams, Sales Director, Business Phones Division EMEA, VTech Communications. "These new products will help IT managers and business owners find a phone system that helps them move their companies forward."
Today's announcement brings multiple enhancements to the ErisTerminal line. Both the VSP726A and VSP736A include additional SIP features like an XML browser, mutual authentication, Action URI, increased customisation with programmable hard keys and the ability to upload custom ringtones. Both models feature dual GigE network ports to reduce network complexity while maintaining high network bandwidth. All ErisTerminal SIP phones come with a standard three-year warranty that provides advanced replacement on warranty claims using new, not refurbished, products.