Data and analytics technologies are rapidly advancing, with many UK businesses and organisations opening their eyes to the possibilities. We examine what this means for resellers, MSPs and VARs.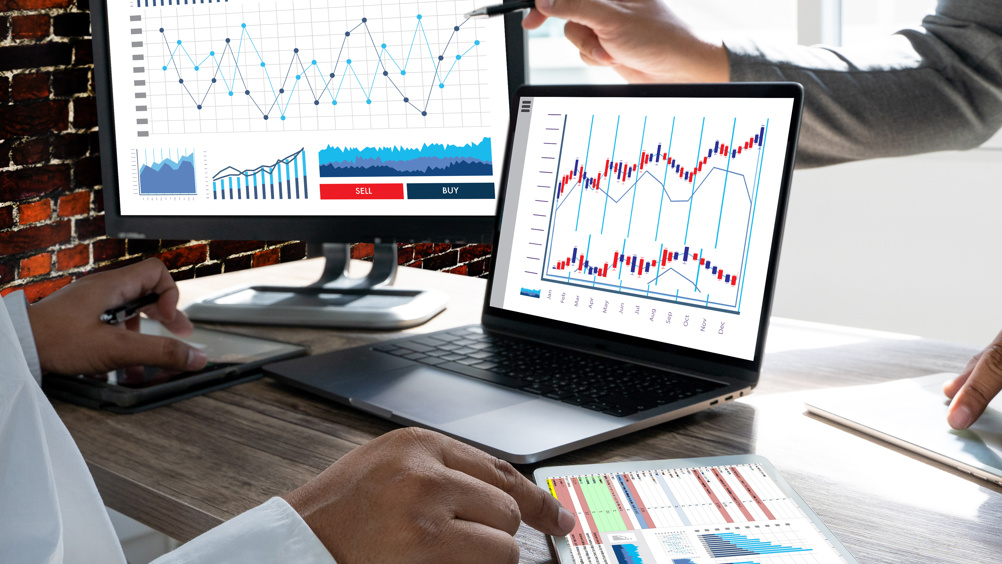 Data and analytics can help businesses make faster and better decisions, and the Channel is at the forefront of helping businesses make the most of these investments. Digital is now at the heart of many businesses, and data is created with every keystroke. The analytics that follows can be a real game-changer in making that data have real value.
Truly understanding operations and processes can open up an organisation's strategy and help them develop meaningful goals that can transform the organisation. For Wayne Gratton, director, business development and marketing operations at Nuvias, the key change in the market is that these advanced technologies have a much lower barrier to entry in terms of price.
He explained, "Data and analytics are moving from being the preserve of large companies with deep pockets to tools that can be available to companies to all sizes, thanks to affordable packages like Tableau & Power BI. Additionally, there is a ground swell of new generations of enthusiasts, a thriving community who values and embraces analytics and is not intimidated by data analysis."
This decline of financial barriers is likely to continue, with more organisations across the UK likely to bring data and analytics into their day-to-day operations. In addition, data and analytics could spread deeper into organisations, with insights across operations instead of in siloes.
Gratton added that organisations across the UK using data and analytics to move the needle on their goals. He said, "Organisations use data and analytics to get to know their business and their customers better, to help them focus their resources for better ROI, to be more efficient, to monitor performance, to get to know their organisation statistically. In addition, they use market data to scope their market potential."
Hilary Oliver, chief marketing and experience officer at Tollring, said that data alone will not deliver for businesses – the insights that follow are what is important. "Data analytics empowers personalisation of information, to enable the right people to be informed in the right way, at the right time. For analytics to be valuable, access needs to be seamless, easy and fully integrated with the technology ecosystem users already know and use.
"Data and statistics are old news – almost a 'given' in today's world. It's now about insights and meaning, enabling people to learn and make informed decisions. Analytics provides the visibility needed to ensure that best practice is being adhered to, and the right teams and personas have the right tools to do their job. Managers use analytics to encourage effective collaboration, understand wellbeing and optimise resources internally – often remotely, as well as monitoring performance externally."
Organisations across the UK are using data and analytics for a variety of purposes. Oliver said, "Communications analytics enables quality of engagement to be evaluated and performance to be monitored in line with service levels. A clear, visual understanding of overall communication both internally and externally is essential to maximising customer experience. The rise of Microsoft Teams has driven the need for collaboration analytics, which coupled with phone calls through Teams Calling or indeed traditional phone systems provides a full understanding and insights. Although the phone call takes many forms today, it still proves to be critical in customer liaison and relationships.
"Developments in AI and machine-learning are facilitating the move towards persona-based analytics. Services like Microsoft Viva are democratising personalised analytics, driving an expectation and familiarity aligned to an individual's role and responsibilities.
"APIs are also key in this new collaborative world, helping to automate, integrate and consolidate relevant sources of data to deliver analytics to those that need it, in the way that they wish to consume it."
Simon Peters, managing director at CallCabinet, also highlighted the way in which analytics can be used by call and contact centres to improve the customer experience. He said, "The pandemic has pushed companies to adopt a more customer-centric approach and customer service agents are under more scrutiny than ever before. Agents' jobs require constant speed and attention to detail, under the scrutiny of both customers and supervisors. In fact, more than 65 per cent of people have higher expectations for customer service today than they did three to five years ago, which has led to increased demands and stresses on many agents.
"By implementing the right tools to customer service teams, companies can not only expect to deliver a better customer experience, but along with it happier, more efficient, and more loyal staff. Adopting AI-driven recording and speech analytics is key to achieving this."
David Hogan, vice president growth segments, Ribbon Communications, explained how the company's analytics can broaden an organisation's understanding of their voice and data solution.
He said, "Ribbon helps solve the challenges enterprises and industry verticals face when modernizing their voice and data networks, providing end-users with secure access to communications applications from anywhere. Our analytics solution makes it easy to manage these services even when users and their UC or contact center applications are outside of the enterprise's direct control."
Analytics in action
To put the impact of data and analytics in context, Durham University worked with Softcat to address the challenge of being able to access a centralised log of network activity and event management across the wider IT estate. The educational institution had identified that it required transparent, consolidated information to bolster its security capabilities, as well as to facilitate improvements to processes and IT infrastructure performance.
Gary Foster, senior manager, cyber security, Durham University, explained, "We were aware of how a fragmented view of network and system security activity limits quickly and robustly detecting and responding to security incidents. Within the team, we recognised that a SIEM [Security Information and Event Management] solution would help provide the clear, centralised information log we needed to 'join the dots' and improve security and performance.
"The IT team already had access to information around network activity and system performance, but it was in need of aggregation and correlation to provide the visibility we really needed to enhance protection for our systems, data and users."
Thomas Rowley, networking and security specialist, Softcat, added, "It was clear that a SIEM solution would be ideal and Durham University wanted help with identifying providers capable of delivering the value and functionality required. We held an initial engagement workshop, to help the university understand the functionality available from SIEM solutions today, how these options mapped onto Durham University's use cases and the essential and desirable requirements of the solution. This gave us the information we needed to identify suitable vendors, and carry out further market research to help narrow down the field."
Softcat then put together two options for Durham University and arranged for two vendors to present their solutions to Durham University's IT team. The morning and afternoon sessions enabled the IT team to carry out strengths, weaknesses, opportunities and threats analyses and explore further the suitability of each proposed solution. After careful consideration, Durham University chose an analytics-driven SIEM solution from Splunk.
Once the decision had been finalised, Softcat arranged for an experienced Splunk support provider to help implement the solution. Throughout the implementation phase, Softcat kept in close contact with both Durham University and Splunk to help ensure the success of the project.
Foster, from Durham University, said, "Working collaboratively with Softcat and Splunk proved to be an extremely productive arrangement. It inspired confidence that the implementation would be quickly and efficiently achieved, ensured the solution was fit for purpose and really added value to the project."
The solution was successfully deployed, and its data and analytics capabilities have provided Durham University with enhanced visibility of network activity. Additional benefits included rapid, cost-effective implementation of technology, as well as establishing foundations for additional improvements in processes and behaviours.

Adding value
In terms of the opportunities that remain for resellers and MSPs, Oliver, from Tollring, explained, "The biggest opportunity is for the channel to add value by helping customers to make better decisions. This means integrating analytics within their own proposition and blending data to deliver rich but simply understood insights in line with the target audience and their business needs. Best practice advice can be built on intelligence to encourage further user adoption.
"Sometimes it is not necessary to look for new services, but instead to evolve current offerings to ensure they meet the evolving business needs of each customer. These types of iterations are really important. For example, introducing single sign-on for easy access or identifying ways to leverage the Microsoft ecosystem. There are lots of applications to make things easy and seamless. It all comes down to knowing your customers and ensuring services are relevant and in context."
Gratton, from Nuvias, pointed out the channel needs to help customers use data. He said, "If you are a consultant, you can provide skills and advice based on analytics for the IT channel. It is our job to make data available and secure and to help customers collect and analyse the right data and comply with regulatory requirements.
"Nuvias uses analytics as a core part of its business to help us apply resources in the optimal places and understand our partners' business, matching them with the right vendors and market opportunities. The more we know about our customers, the better placed we are to help."
Meeting regulations
When asked what regulatory measures channel companies need to be aware of, Gratton, from Nuvias, highlighted the vital of role resellers and MSPs in helping their customers keep pace with these evolving requirements. He said, "Regulations like GDPR can lead to more secure data but the complexity of the framework can sometime alienate customers. The channel has a role to play to disambiguate the complexity and enable customers to make their organisations compliant. Regulations often make people scared to act. Guiding customers through what they can do gives them the confidence to act, rather than being intimidated into inactivity."
Oliver, from Tollring, added, "From GDPR to HIPAA, the requirement for compliance has a major impact on operational processes and systems for businesses of any size. To be truly effective, compliance policies need to match the business' regulatory requirements and channel providers need to understand how their customers' can easily adhere to those policies, with different vertical sectors having varying levels of obligations.
"Channel companies should look for software partners that have a track record and make it as easy as possible to adhere to regulations. A strong compliance story can offer a powerful USP."
Oliver also pointed out the guardrails that automation can offer here. She said, "Self-service and automation are key to making compliance manageable; this means giving customers the tools and ability to configure and manage their own policies. It is also important to enable customers to easily identify areas of non-compliance, understand what has fallen through the gaps and how to deal with exceptions. This requires a strong self-service element if issues are to be dealt with quickly and responsibly."
Future realities
Analytics and insight technologies look set to continue to evolve in the years ahead. This means new capabilities could become a reality very quickly, and it is vital that channel companies keep an ear to the ground so they can react and develop compelling offerings before the competition.
For Nuvias' Gratton, artificial intelligence will help his own organisation to develop advanced offerings. He said, "We expect the use of analytics to grow manyfold, with many more use cases and tools available. Increasing automation of analytics will provide more insights from the data, with AI helping us identify patterns and adjust our business strategy accordingly."
Tollring's Oliver emphasised the personalisation possibilities that could be unlocked. She said, "So much will happen in the next 10 years! Expect greater meshing of various systems and technologies through the use of APIs to bring solutions together and deliver broader and deeper insights.
"Analytics will continue to become more automated and personalised through AI and machine-learning technologies. Analytics is the power behind everything, driving and enabling decision-making."